We are the only French language school in Montpellier awarded with the 4 leading international and national language centers accreditations: EAQUALS, IALC and LABEL QUALITE FLE and the GROUPEMENT FLE. They are more than just simple labels. They are awarded after strict quality inspections locally at school over several days by highly qualified, independent inspectors, who then suggest the school to a committee who will decide on attributing the label or not. We are inspected almost every year by these various accreditation bodies. This is your best guarantee for excellent teaching, services and for a successful French language stay.
In addition ILA are registered at all French education authorities : at the "Rectorat" as an "Etablissement d'Enseignement Supérieur Privé" and at the Prefecture of Montpellier/ Ministry of Work as a professional continuing education center. We are also registered by the Swedish and the German Governments for further education.
EAQUALS – Excellence in language education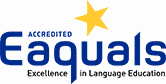 Founded in 1991, EAQUALS is an association for language services providers with over 100 members in more than 20 different countries. EAQUALS participates in the Council of Europe activities and works in European projects related to language teaching. EAQUALS grants its quality label to institutions that meet its high inspection standards. Before becoming an accredited member, schools must undergo a rigorous local inspection based on the Code of Practice and Charters.
ILA was awarded in 2014 by the prestigious EAQUALS label with EXCELLENCE in Management, Administration, Teaching and Learning, Course design and supporting systems, Academic resources and internal communication.
Schools accredited by EAQUALS allow those who advise or choose language courses to select a school with confidence. ILA is the only language center in Montpellier which fulfilled the EAQUALS criteria.
IALC – International Association of Language Centres

The Institut Linguistique Adenet is since 2004 member of the international quality association  IALC (International association of Language Centres) and we commit ourselves to accept the IALC Code of Ethic.
Before being accepted by IALC, a qualified IALC inspector visited our Institute and assessed thoroughly all aspects of our operation: curriculum, teaching, academic management, accommodation, general management, administration, finance, marketing, feedback and complaint procedures, etc. As a member of IALC, we also have regular re-inspections by IALC inspectors as well as the obligation to provide Annual self-assessment returns and Quality plans.
Only a very small number of language centres in France could fulfil the high standards expected by IALC to be accepted as members. Our French language institute is the only IALC member in Montpellier.
French as a foreign language government quality label
After a quality audit was conducted by the CIEP (International Centre for Pedagogical Studies), ILA obtained the French as foreign Language quality certification, for compliance and quality of it's assistance, services, courses, environment and management.
The French as a Foreign Language Quality label is the result of a quality-assurance approach undertaken by three French ministries : the Ministry for Higher Education and Research, the Ministry of Culture and Communication, and the Ministry of Foreign Affairs. They are members of the Interministerial Certification Committee, which awards the label.
Groupement FLE

I.L.A. is member of the Groupement FLE. This quality association brings together schools teaching French in France which offer a wide range of quality services to students, business people or people just interested in learning French in France during a language stay. The Groupement FLE also aims to promote its member schools, as well as sharing experience and knowledge to improve quality standards.
This "quality reference" is based on criteria, firm commitments and audits, outlined in a reference document, to which all Groupement FLE member schools adhere.
Ministère de l'Education Nationale / Rectorat

The Institut Linguistique Adenet is registered at the Rectorat of the Montpellier Academy as a private institution of higher education.
Ministère Français du Travail

The Institut Linguistique Adenet is registered at the Prefecture of Montpellier as a professional continuing education institution (Nr. 91340382734).
CSN – Sweden

Our French language institute is recognised by the Swedish government for further education (CSN) – Swedish students please do contact us at info@ila-france.com for further information.
Bildungsurlaub – Germany
The German government of several states accepted our French language institute for « Bildungsurlaub » (further education for professionals) – German students please do contact us at info@ila-france.com for further information.
Other recognitions
Many cultural institutes, Universities and specialised language tour operators selected, after having inspected our institute locally, our French language school as their partner in Montpellier. These organisations have sent several thousand of their clients to our Institute.