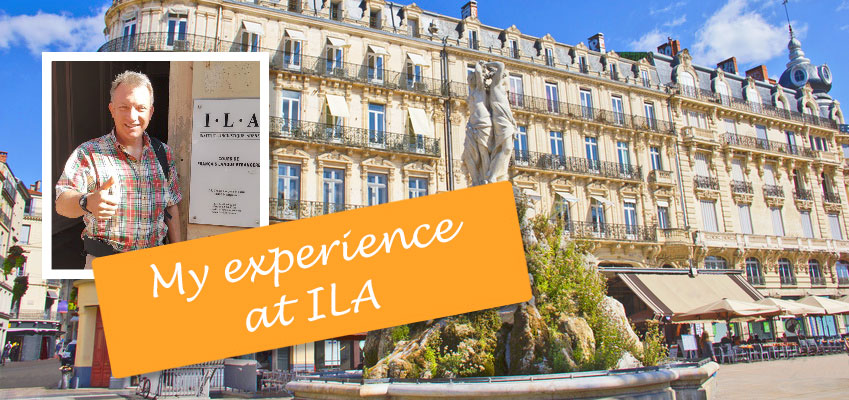 Bonjour! I am writing this from my French language school, ILA, which is located here in Montpellier, France. For my American friends, Montpellier is roughly pronounced "Mohn-pay-yay". I am very grateful for this amazing opportunity to learn French in France.
Here… France
"Here" has actually been an unusually complex word this past week. While there are lots of reasons people come to ILA French immersion school to learn French, here is my story. I left Pittsburgh nine days ago for Montpellier and just over two months of fully immersed French language school. This is a natural next step of my work in French-speaking Gabon, Africa, where my mission home, Bongolo Hospital, is located. These nine weeks of French study will give me a solid foundation in French grammar and vocabulary. My goal is to be able to accelerate my learning in addition to being able to hang out with local French-speakers. You would be surprised how many there! It's kind of like when you buy a new car and it is suddenly everywhere. I'm excited to build those relationships.
Here… Montpellier
Where am I, actually? The city of Montpellier is in the far southern part of France, only about 4 miles from the Mediterranean Sea. Its famous neighbors to the east, such as Nice, Marseille, Cannes, etc., get all of the attention – and are also much more expensive, as well. Montpellier is a famous destination in its own right, just a little bit less so. And, that suites me just fine! I am experiencing the best of the Mediterranean region without many of the negatives.
Here… With My French Host Family
It could also mean in the home – an actual house – of my host family. My "parents" are a semi-retired couple with three grown children. They are wonderful people and are looking out for me almost the same as my own parents. I chose this lifestyle instead of an apartment by myself because it would provide for a more fully immersed French experience without the potential isolation and burdens of apartment living. An example is that, rather than dealing with cooking during my French immersion in Montpellier, I opted to pay for two meals every day – breakfast and dinner, and what a great decision that has been! Breakfast is continental and dinner has been out of this world every night so far.
Here… My Bedroom
Or, I could be in my small yet comfortable bedroom. While it's wonderful to come home to a family environment, it is also great to have a private space to retreat to for study and relaxing. It boasts a comfy full-sized bed, a corner computer desk, really good closet storage space, an antique chair, and a small bed-sized table. Perhaps best of all, there is a little dorm-style refrigerator (2′ x 2′) that holds my lunch supplies and drinks, as I am responsible for all of my lunches and snacks. A surprise bonus was that she actually did my laundry yesterday! I certainly did not see that coming; I brought her flowers to express my gratitude.
Here… at ILA
"Here" could also be at ILA. I am in class all morning during the week learning French and how to interact in real life situations. I am in level "A2" which is advance beginner. I have been challenged to learn French at a rapid rate, which is what I was hoping for. Everything at ILA French school is in French, and that helps from an immersive learning point of view. I have had to quickly learn to ask questions in French! So far, so good.
This amount of classroom training has turned out to be a good decision so far. I can sign up for additional classes and tutoring, and I will play that by ear as I get settled in. It has been a long, long time since I was in school! So, every afternoon, I review the morning's lessons, build vocabulary lists and focus on grammar exercises.
Here… Montpellier (Part 2)
I could take immersion French courses "anywhere", so why here in Montpellier? The most important reason is that ILA itself came personally recommended by a colleague I trust. Second, this climate is very similar to San Diego's ideal weather: 300+ days of sunshine a year, low humidity, beautiful rolling hills, etc. Selfishly, I don't want to be cold and wet!
Third, this is a culturally and historically rich region of France. ILA French language school, among other optional activities, sponsors field trips to various regional places of interest. So far, I have been to a breathtakingly beautiful medieval village, Aigues-Mortes, only about 20 minutes east of Montpellier and, as part of the same trip, to one of the neighboring large, regionally important salt production facilities. I've never considered how salt is obtained and was fascinated by the tour!
Believe me when I say that so far I'm getting my money's worth!
Doug, USA (ILA student)