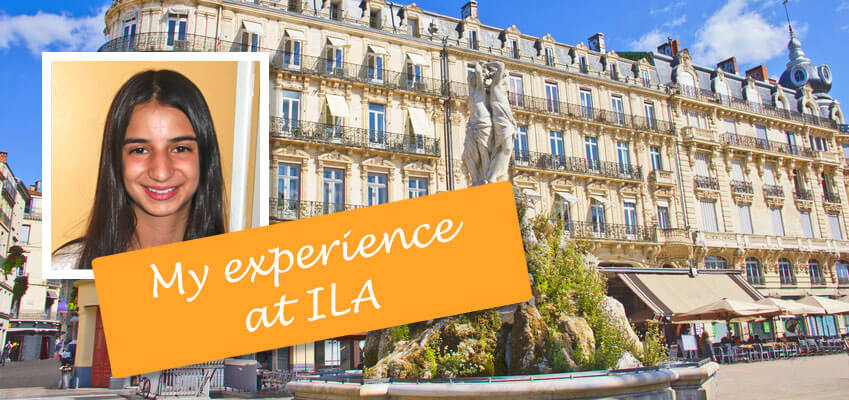 When I first decided to come to Montpellier to learn French in France, I never imagined that this decision would change my life. I was only expecting to study French but I never thought this French language experience would help me be more independent, open-minded, extrovert and become more confident in myself. Every aspect of my French language immersion stay has enriched my life.
Montpellier it's a very nice Mediterranean city, a perfect place to spend the summer time. It is close to the ocean and it has a big beach area, which is ideal to go on the weekends. There are many activities in Montpelier for different types of personalities; there are shopping malls, cinemas, parks, museums, libraries, gyms, bars, and there is an aquarium. Additionally, many food and music festivals are held here, a good example of it is "les estivales". If you are into sports, there is an Olympic pool. You will never get bored here during your French language immersion stay. Apart from these, the city has a very good public transportation, which is easy to use but it is safe to walk around if you prefer.
My French language school "ILA" is located in the magnificent historical centre of Montpellier, which is full of historical buildings and monuments. Next to the French school there is a plaza called "place de la comédie" which is a popular touristic area. Additionally, you can find many restaurants that serve from local food to international food near the ILA French school, this creates a magical atmosphere. On the other hand, it is a place of easy access as you can walk and if you use the tram there are also tramway stations nearby. ILA buildings are agreeable, they are always clean and the temperature inside them is perfect. The classrooms are very nice; they have a beautiful view and are well equipped with useful materials for the good development of the class.
The French courses are didactic and balanced. Every day we do different activities, like watching videos and playing games that facilitates the learning of the language. You are given appropriate material to work. Also, classes are given to small groups, this allows teachers to focus more on each student and help them understand the topic. The teachers are all very patient and kind, they are always willing to help their students as well as the rest of the school staff, which are super friendly and helpful. Besides that, the ILA French language school offers extra-curricular activities such as trips to near towns, parties and food tasting after school. Theses activities are great to make new friends and learn new things about France, each week they change the activities.
One of the things I like the most about learning French in Montpellier is the opportunity to have a cultural exchange. It is a great opportunity to interact with people from all around the world and learn about different cultures. Moreover in my French school, ILA, you have the chance to share your classes with students from all nationalities and ages. Not only you will learn French but also about general cultural.
On the other hand, the school has a lot of options of housing in Montpellier. There is a student residence for people above 16 years old or you can stay with a host family. In my case I chose to stay with a host family because I wanted to live for a while with people from a different culture. The families are really nice and welcoming, you have the chance to know how the normal French families live and also try traditional food.
To conclude, Montpellier is perfect for all ages and people. If you want to study French in France I would highly recommend Montpellier, it transformed my life and surely it can change yours.
Amalia, Colombia (ILA student)