Our Standard Plus French language course for adults associates the Standard French Course with French Private Training and promotes widely communication while deepening your general knowledge of French. This language stay package in our French Language school in Montpellier combines dialogues with other learners, while also taking into account your individual needs. French Language Immersion stays also facilitate cultural and civilizational discoveries.
Course start Every Monday
Number of students 5 - 8 (max. 10)
1 for private course
Number of lessons 20 + 5
Minutes per lesson 45
Duration As of 1 week
Levels All levels
Level test Yes, online
Timetable 09:00 - 12:15*
plus 5 private lessons
Ages 16 +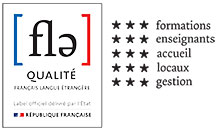 Quality Label FLE
We guarantee high quality teaching and services that are officially recognized by the quality label "Français Langue étrangère".
Course description
The Standard Plus French course for adults aims at improving ones general knowledge of the language while organising itself around the 4 main competences (reading, writing, listening and speaking) in accordance to the CEFR recommendations. It brings you grammatical and linguistic tools linked to concrete situations of everyday life you could meet during our French language immersion programs. Learning French in France also favours a deeper and contextualized learning of phonetics.
In our French language school in Montpellier, French as a foreign language curriculum is written carefully to match the requirements of each level, and to meet the needs of learners, this being all the more taken into account by your private French lessons teacher.
Ensuring steady progress, these programs are embellished with various supports to stimulate the curiosity and the motivation of each French student. That is why authentic documents hold a major place in our French classes, offering a concrete approach to current affairs, news and French culture, without putting aside the discovery of France and the wonderful region around Montpellier.
The dynamism of the French Standard Course combined with French Private Training is an ideal solution to truly master French and achieve personal or professional goals during your French Language Immersion stay in Montpellier.
*In high season the timetable can change
Who for is this French course
This Standard Plus French course for adults is adapted from A1 (beginner) to C2 (advanced) levelled students, and is perfectly suited for learners who want to develop their general knowledge of French, work on specific points tailored to their needs, and enjoy the attractions of Montpellier and the South of France.
Concealing the Standard French language Course and French Private Training ensures rapid progress, thanks to the varied learning situations. On the one hand, small groups during the standard course lead to verbal exchanges and mutual enrichment, and on the other hand, the face to face schema offered by the Individual French lessons will meet your personal or professional requirements.
This French language course formula is therefore perfect to meet other learners, take time to study French in France at your own rhythm, and also quickly put into practice the various learning points you gain, thanks to proper French language immersion. Our French Language School being in the heart of the city, outdoor activities with the teacher are easy to conduct, as well as outings with other students. This residential French course will allow you to not experience this alone.
The Private lessons are a real opportunity to either answer questions you may want to go over concerning the Standard French Course, and also a real opportunity to work on conversation. And above all, you can deepen specific expectations you may have in specific fields such as legal French, tourism, medical vocabulary, business and trading, or even to prepare an exam like the DELF or DALF.
This French language stay is entirely appropriate for learners who have the ambition to both improve in French and to immerse themselves in French culture by taking full advantage of our language immersion programs in France.
The benefits of this course
The Standard Plus French course for adults is based on a communicative approach that best accompanies learners in everyday situations during their French Language stay. This residential French course helps to:
gain verbal insurance
manage situations of daily life
acquire or master grammatical notions
refresh and expand your vocabulary
refine your phonetics during your French Immersion stay
focus on your individual needs in your French course
learn and move on without any pressure
benefit from being in France and extend your cultural knowledge
ILA advantages !
• Only Montpellier school accredited by IALC and EAQUALS
• First class French classes, small groups, top motivated teachers
• Excellent nationality mix: Students from 80 countries
• Wonderful premises in Montpellier's historic center
• Enjoy exciting activities, make friends from all over the world
Accommodation in Montpellier with ILA
ILA offers you high quality accommodations for French language immersion programs in Montpellier, South of France! Please choose your accommodation!

Our French language school in Montpellier provides you with excellent, carefully selected host families for your French language course in France!
Find out more
Price from 130 € / week

Meet many people from around the world during French language immersion stays in France. Learn French and enjoy our comfortable student residences!
Find out more
Price from 154 € / week

Our French language school in Montpellier offers this quality accommodation for your residential French language course in Montpellier. Enjoy learning French!
Find out more
Price from 130 € / week

Our French language school in Montpellier offers this independent, budget accommodation for residential French language immersion stays in France.
Find out more
Price from 150 € / week
Social activities and excursions
We want to make your French language stay in Montpellier an unforgettable experience. We therefore offer every week a numerous wonderful cultural and fun activities as well as fantastic excursions.