Our standard French language course for adults gives a special place to communication while covering all aspects of the French language. This French course combines the benefits of pedagogical supervision and the benefits of full French immersion programs to continue to learn French in Montpellier outside the classroom. The standard French language course for adults is one the most popular French courses from the language stays offered at our French language school in Montpellier.
Course start Every Monday
Number of students 5 - 8 (max. 10)
Number of lessons 20
Minutes per lesson 45
Duration As of 1 week
Levels All levels
Level test Yes, online
Timetable 09:00 - 12:15*
Ages 16 +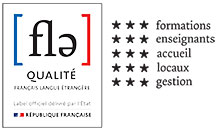 Quality Label FLE
We guarantee high quality teaching and services that are officially recognized by the quality label "Français Langue étrangère".
Course description
The standard French language courses for adults are general residential French courses focusing on the 4 competences (reading, writing, listening and speaking) and on grammar. Above all, the practical aspect of the language is taught in order to facilitate everyday communication during your French language immersion. Thus both the aspects of comprehension (oral and written) and expression (oral and written) are taken into account in the French course, as well as lexical enrichment.
It is also important to focus on phonetics that are easier to work on by learning French in France, because it is important to pronounce well to ensure good communication with others during your French immersion in Montpellier.
Our French school in Montpellier pays special attention to its French as a foreign language programs. Indeed, they are adapted to each level and provide a variety of activities for which our teachers choose a variety of adapted supports, for all needs, but also to make the most of your French language immersion. This is why we privilege authentic documents which allow you to keep track of the news, and discover, become familiar, with the region.
Our French classes are dynamic, effective, and everyone can quickly put into practice what was learnt. This is the advantage of being in a French language school in France. It is indeed gratifying to be able to be aware of your own progress through our French immersion programs.
*In high season the timetable can change
Who is this French course for
This residential French course for adults, which goes from the beginners A1 to the advanced C2 levels, is for learners who want to deepen their knowledge of the French language while keeping free time to discover the wonderful region. Hence the advantage of our French school in Montpellier which offers the opportunity to go for walks in the heart of town or excursions in the surroundings, as activities offered by our French Language School.
The standard French language course for adults is a residential language stay that offers a good balance between the time to study French in France, and time to relax, visit or work at your own pace.
The small groups that characterize the standard French course for adults also allow easy communication and proximity. It is not always easy to reach out to others during a residential language stay in France. The standard course allows the students to make contact with each other and it is also the occasion to make new cultural experiences in Montpellier. In addition, the residential French courses of our language school provide great self-confidence boost and increased progression through the teachers support.
The benefits of this course
The standard French language course for adults is first of all conducted with a communicative approach to facilitate everyday French immersion. This French course helps to:
gain self-confidence to speak more easily
cope with everyday tasks
deepen grammatical knowledge
enhance vocabulary during your French language stay
improve phonetics
enhance France's culture and representations
ILA advantages !
• Only Montpellier school accredited by IALC and EAQUALS
• First class French classes, small groups, top motivated teachers
• Excellent nationality mix: Students from 80 countries
• Wonderful premises in Montpellier's historic center
• Enjoy exciting activities, make friends from all over the world
Accommodation in Montpellier with ILA
ILA offers you high quality accommodations for French language immersion programs in Montpellier, South of France! Please choose your accommodation!

Our French language school in Montpellier provides you with excellent, carefully selected host families for your French language course in France!
Find out more
Price from 130 € / week

Meet many people from around the world during French language immersion stays in France. Learn French and enjoy our comfortable student residences!
Find out more
Price from 154 € / week

Our French language school in Montpellier offers this quality accommodation for your residential French language course in Montpellier. Enjoy learning French!
Find out more
Price from 130 € / week

Our French language school in Montpellier offers this independent, budget accommodation for residential French language immersion stays in France.
Find out more
Price from 150 € / week
Social activities and excursions
We want to make your French language stay in Montpellier an unforgettable experience. We therefore offer every week a numerous wonderful cultural and fun activities as well as fantastic excursions.