Our Intensive French Course for adults puts emphasis on communication whilst also working on the different aspects of the French language. Students choose the French Intensive Course at our French language school in Montpellier because they want to study French in France to make progress faster. French Immersion programs allow you to improve your language skills and get familiar with the culture so your residential French language stay will be successful.
Course start Every Monday
Number of students 5 - 8 (max. 10)
Number of lessons 30
Minutes per lesson 45
Duration As of 1 week
Levels All levels
Level test Yes, online
Timetable 09:00 - 12:15*
and 3 afternoons 13:15 - 15:50
Ages 16 +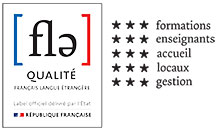 Quality Label FLE
We guarantee high quality teaching and services that are officially recognized by the quality label "Français Langue étrangère".
Course description 
The Intensive French language course combines language studying with different aspects of the language and offers you the possibility to improve your fluency thanks to time spent on oral communication activities. In fact, the Standard Course is based on the four skills (reading, writing, listening and speaking), grammar, vocabulary but also phonetics whilst the Intensive Course complements everything that has already been studied during the Standard Course. It helps you practice your oral communication and getting familiar with French culture and civilisation during your French language course in France.
The residential French programs at our French Language School in Montpellier are planned carefully according to CEFRL recommendations (the Common European framework of reference for languages) so as to suit not only the level of the classes but also the actual type of class. In this way, the French Intensive Course aims at better communication with objectives to get familiar with French culture. Your range of vocabulary is enriched in the process and you can also work on phonetics during your French Language Immersion in France.
In view of having communication as a priority, numerous debates, presentations and role plays are organised so that general French language learning can actually have communicative results. Learning French in Montpellier means you have access to authentic documents such as the local press. Teachers also find short videos on internet and make a point of showing you cult films.
Studying French in France has another advantage, especially since our French school is located in the heart of Montpellier. This means that you can take part in out of school activities to practice in the French language in context with French people. This is a great way to enjoy residential French courses and have fun.
*In high season the timetable can change
Who this French language course for?
Our French Intensive Course for adults particularly suit students who wish to improve their knowledge of all aspects of the French language. This residential French course is worthwhile for learner from A1 beginner to C2 advanced levels both for language learning and improvement.
Various subjects are treated during your French immersion program so as to make communication easier for students so that they are autonomous in their everyday life. We put emphasis on adapting to needs and this is very easily done because there are never any more than 10 students in a group during your French language stay in France. It is always easier to speak in a small group during French language immersion stays. Meeting students who come from five different continents of the world is also very encouraging to learn French.
The French intensive lessons given during the residential French course are particularly useful for those who wish to make progress fast. On the one hand, French language learning at our French language school in Montpellier organised by fully qualified Teachers ensures a complete approach to different aspects of the French language and on the other hand gives you the chance to practice, visit and get familiar with the French way of life because you will be in direct contact with them.
The benefits of this French language course
The French Intensive Course for adults is a French language immersion stay that is ideal for improving language skills fast and for practising what you learn orally. Our residential French course will help you to:
Practice, improve fluency and gain in confidence when speaking French
Deal with everyday situations in France
Strengthen grammatical skills during your French language stay
Extend your range of vocabulary
Improve phonetics
Explore France and get to the heart of French culture
ILA advantages !
• Only Montpellier school accredited by IALC and EAQUALS
• First class French classes, small groups, top motivated teachers
• Excellent nationality mix: Students from 80 countries
• Wonderful premises in Montpellier's historic center
• Enjoy exciting activities, make friends from all over the world
Accommodation in Montpellier with ILA
ILA offers you high quality accommodations for French language immersion programs in Montpellier, South of France! Please choose your accommodation!

Our French language school in Montpellier provides you with excellent, carefully selected host families for your French language course in France!
Find out more
Price from 120 € / week

Meet many people from around the world during French language immersion stays in France. Learn French and enjoy our comfortable student residences!
Find out more
Price from 147 € / week

Our French language school in Montpellier offers this quality accommodation for your residential French language course in Montpellier. Enjoy learning French!
Find out more
Price from 130 € / week

Our French language school in Montpellier offers this independent, budget accommodation for residential French language immersion stays in France.
Find out more
Price from 150 € / week
Social activities and excursions
We want to make your French language stay in Montpellier an unforgettable experience. We therefore offer every week a numerous wonderful cultural and fun activities as well as fantastic excursions.