Our Intensive Plus French language course for adults is a truly complete French course that combines the dynamism of group lessons, with the individual and personalized accompaniment of the French private training. By focusing on communication and the approach of the French language from all perspectives, our French language course in Montpellier benefits from French language immersion to also discover the French culture.
Course start Every Monday
Number of students 5 - 8 (max. 10)
1 for private course
Number of lessons 30 + 5
Minutes per lesson 45
Duration As of 1 week
Levels All levels
Level test Yes, online
Timetable 09:00 - 12:15*
and 3 afternoons 13:15 - 15:50
plus 5 private lessons
Ages 16 +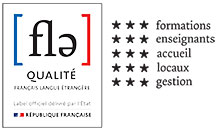 Quality Label FLE
We guarantee high quality teaching and services that are officially recognized by the quality label "Français Langue étrangère".
Course description
The Intensive Plus French course for adults are French courses devoted to learning French in its entirety, with the objective of acquiring the 4 competences according to the CEFR recommendations: oral and written expression, as well as oral and written comprehension. Great importance is also given to grammatical and lexical enrichment, as well phonetics. Communication holds a major place in all our French language courses, but even more so in the French Intensive Course, which represents a fantastic way to put oral expression into practice, and allows the exploration of French culture and civilization. The French private training in complement, allows you to learn French in Montpellier in an individualized way. These residential French courses in Montpellier are the most complete offer to maximise your studying.
In our French school in Montpellier the French programs are all adapted and prepared for each type of course and each ones level. This massively helps meeting the learning objectives. However, the French private lessons do not follow a schema; they are prepared depending on the specific needs of each student, and complement effectively the other courses. It helps to check the correct understanding of the French language and to reinvest the lessons learned. It is above all an ideal French course to give you the chance to learn French at your own rhythm, while having personalized learning frame in order to achieve your particular goal as profitably as possible.
During the Intensive Plus French courses for adults, because all the classrooms of our have connected multimedia equipment, all types of media are used: video, internet, audio etc. Priority is always given to authentic documents as well, such as newspapers, books, manuals etc. Outings can also be organized to study French in France in context and to find you in the real communication situations offered by our French language immersion programs.
*In high season the timetable can change
Who is this French course best for?
This Intensive Plus French language course for adults is for all learners, from A1 level (beginner) to C2 (advanced), who want to deepen their knowledge of French language and culture.
It is particularly beneficial to students who have little time on their hands during their language stay in France, and who want to maximise their progress through a residential French course, by being able to access a variety of approaches ranging from general French learning to highly individualized learning. It corresponds perfectly to students with the ambition to learn French quickly and who want to meet personal or professional requirements.
The French private lessons deal with really varied topics according to the needs of each one of you.
The teacher conducts a study of the student's needs using a questionnaire to prepare tailor-made lessons. It is therefore possible to study French specific ranges such as medical, tourism, business and trade or anything else needed. It is also an opportunity to prepare during French Immersion stays an exam such as the DELF or DALF, and to practice effectively oral expression.
This Intensive Plus French course is a "tailor-made" offer that takes advantage of both small group interrelations, and individual accompaniment adapted to each person's pace. This is very effective way to learn French during French classes in Montpellier.
The benefits of this course
The Intensive Plus French course for adults is the perfect type of French course to improve quickly and practice your oral. This course helps to:
speak spontaneously with ease
encounter situations of everyday life
perfect your grammar during French language immersion in Montpellier
cultivate your lexical repertoire
practice the proper pronunciation of French
work at your own pace with your specific needs
enjoy the beauty of France and enter the secrets of its culture
ILA advantages !
• Only Montpellier school accredited by IALC and EAQUALS
• First class French classes, small groups, top motivated teachers
• Excellent nationality mix: Students from 80 countries
• Wonderful premises in Montpellier's historic center
• Enjoy exciting activities, make friends from all over the world
Accommodation in Montpellier with ILA
ILA offers you high quality accommodations for French language immersion programs in Montpellier, South of France! Please choose your accommodation!

Our French language school in Montpellier provides you with excellent, carefully selected host families for your French language course in France!
Find out more
Price from 130 € / week

Meet many people from around the world during French language immersion stays in France. Learn French and enjoy our comfortable student residences!
Find out more
Price from 154 € / week

Our French language school in Montpellier offers this quality accommodation for your residential French language course in Montpellier. Enjoy learning French!
Find out more
Price from 130 € / week

Our French language school in Montpellier offers this independent, budget accommodation for residential French language immersion stays in France.
Find out more
Price from 150 € / week
Social activities and excursions
We want to make your French language stay in Montpellier an unforgettable experience. We therefore offer every week a numerous wonderful cultural and fun activities as well as fantastic excursions.