Are you thinking about going to university or enrolling onto higher educational training in France? Our French school in Montpellier gives you the possibility to prepare for the DELF B2 exam required when enrolling in university. The university preparation course for teens will allow you to improve your fluency in French as well as acquire the methodology skills needed so as to succeed in your university course.
Course start Every Monday
Number of students 5 - 8 (max. 10)
Number of lessons 30
Minutes per lesson 45
Duration Minimum 4 weeks
Levels All levels
Level test Yes, online
Timetable 09:00 - 12:15*
and 3 afternoons 13:15 - 15:50
Ages 16 +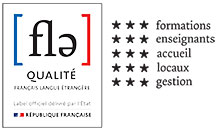 Quality Label FLE
We guarantee high quality teaching and services that are officially recognized by the quality label "Français Langue étrangère".
Course description
Attending the special French classes for university preparation for teenagers means you will be able to develop your linguistic skills as well as prepare effectively for all parts of the exam with the aim to starting university.
This class combines the standard course with the DELF B2 preparation course. The standard course ensures that you learn all the fundamentals of the language (grammar, lexic, phonetics and culture) by focusing on the four skills recommended by the CEFRL (Common European Framework of reference for languages: reading, listening, speaking and writing skills. You are thus given the basic languages skills needed for following a university course as well as the chance to enrich your knowledge of French culture and civilisation, which is also essential for passing the DELF B2 exam. This residential French course in France will plunge you directly into French society to better understand and use the language in context as often as possible.
The DELF B2 preparation course helps you to practice methods and techniques for sitting the exam, tips which are also useful for helping you to understand lectures, take down notes, ask questions, read specialised books…once you are at university. A fully qualified teacher guides you every step of the way providing you with advice to help you pass your course.
You will have access to study manuals with corrections that are specially designed to help you pass the DELF B2; you will be able to use these books after classes for further improvement. You will also be given 2 mock exams so that you can pinpoint your strong and weak points before "D-Day".
Should you have any further questions… Do not worry, there is a weekly DELF/DALF tutorial and a specialised Teacher of our French language school in Montpellier is available to answer all of your questions regarding the exam.
Who this course is for
This university preparation course for teenagers is ideal if you are planning to study at a French university. The course works on different areas of language learning and helps you to improve both your general language skills and help you with special methods and techniques needed to pass the DELF B2 exam. The course will also help you to integrate into university life better.
To make your residential French course worthwhile, you are strongly advised to follow the Intensive French course before even starting to prepare for the DELF B2 exam.  In this way, you will be able to make use of all your know-how and you will of course be able to enrich your French language skills. This extra source of learning complements intensive exam preparation well.
You should not forget that learning French in France gives you the chance to totally immerse yourself in the language and soak up everything around you to complete what you have learnt at school. So, do not hesitate to listen (to the radio, the TV…), read, (signs, newspapers…) and look around you because you will soon realise that there is information everywhere to help with your language learning. You will end up learning without even realising it. This is really a complete course that is ideal for helping you to reach your objectives and fit in at university. 
The benefits of this French course
If you really want to prepare properly for the DELF B2 exam and understand the methods needed for you to feel comfortable at university, then the university preparation course for teenagers is for you! The course will help:
Prepare for French University
Train you for formal oral and written communication
Learn the fundamentals for the French language
Set up a reference list of specific and everyday words
Master French phonetics
Understand the methods and techniques for each exam
Benefit from individual guidance to help you every step of the way
Add experience of the French culture and civilisation to your CV
Get familiar with the world of university and its codes.
ILA advantages !
• Only Montpellier school accredited by IALC and EAQUALS
• First class French classes, small groups, top motivated teachers
• Excellent nationality mix: Students from 80 countries
• Wonderful premises in Montpellier's historic center
• Enjoy exciting activities, make friends from all over the world

Accommodation in Montpellier with ILA
ILA offers you high quality accommodations for French language immersion programs in Montpellier, South of France! Please choose your accommodation!

Our French language school in Montpellier provides you with excellent, carefully selected host families for your French language course in France!
Find out more
Price from 130 € / week

Meet many people from around the world during French language immersion stays in France. Learn French and enjoy our comfortable student residences!
Find out more
Price from 154 € / week

Our French language school in Montpellier offers this quality accommodation for your residential French language course in Montpellier. Enjoy learning French!
Find out more
Price from 130 € / week

Our French language school in Montpellier offers this independent, budget accommodation for residential French language immersion stays in France.
Find out more
Price from 150 € / week
Social activities and excursions
We want to make your French language stay in Montpellier an unforgettable experience. We therefore offer every week a numerous wonderful cultural and fun activities as well as fantastic excursions.