Our French language school in Montpellier helps students who wish to study at university or at a higher education school in France. We offer a University preparation course for adults with a complete approach to the linguistic and cultural fundamentals of the language together with methods and techniques together with practice for the DELF B2 exam, essential for any university enrolment.
Course start Every Monday
Number of students 5 - 8 (max. 10)
Number of lessons 20 + 10
Minutes per lesson 45
Duration As of 4 weeks
Levels All levels
Level test Yes, online
Timetable 09:00 - 12:15*
and 3 afternoons 13:15 - 15:50
Ages 16 +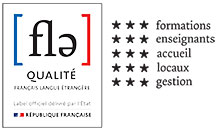 Quality Label FLE
We guarantee high quality teaching and services that are officially recognized by the quality label "Français Langue étrangère".
Course description
In our French language University preparation course for adults we teach you the French language and provide you with the skills required for exams (namely, the DELF, B2); you will learn university methods and techniques that are essential for attending classes and passing exams with flying colours.
In this way, the University preparation course helps to improve the 4 skills recommended by the CEFRL: Listening and reading comprehension as well as written and spoken communication. During the Standard French course you will revise all grammatical rules so as to master them to the best of your capabilities whilst also enriching your range of vocabulary and improve phonetics for better pronunciation. All of these capacities are required if you want to pass the DELF B2 exam and they will also help you to follow a university course. You will thus be prepared for university having acquired a good language level together with knowledge about French culture.
During the preparation course for the DELF B2 exam, you will be able to increase your chances for success thanks to personal guidance and a better understanding of methods and techniques required for the exam; which are also useful throughout your university cursus, for example when taking down notes during a university lecture or trying to understand specific language in various situations. Moreover, you will be given practical exercises in class to help put you in exam conditions. You will also sit two mock exams to help you see what you have learnt and pinpoint any difficulties that need to be put right.
Learning how to work by yourself is essential for succeeding at university. In addition we use a study manual that is specifically designed to help you practice when preparing for the DELF B2 with examples of exercises and corrections together with homework that benefits students by complementing classroom learning.
There is a fully qualified teacher of our French language school in Montpellier at hand during the DELF B2 preparation course so as to optimize French-language learning. If by chance you still have questions, there is a weekly DELF/DALF tutorial to put your mind at ease and to answer any little questions that may be bothering you.
Who this course is for
Our French University preparation course for adults is aimed at students who wish to benefit from real guidance when preparing for the DELF B2 exam so as to get a place in a University in France. The language is studied intensively both in form and in content and you will be shown methodology specific to university so as to help you with your integration into university.
In order to get the most out of your language stay, you are advised to attend the intensive course before enrolling for the DELF B2 so as to brush up your French and expand your range of vocabulary as well as what you know about French society because this is also essential for obtaining successful exam results. 
It is also very important not to neglect the chance to immerse yourself in the language having chosen to study French in France. This is a considerable asset because you will get a great deal of opportunities to practice your French, namely, skills such as comprehension and communication skills, both written and spoken. You will be well prepared for life in France, mixing with French people and understanding their way of life.
Our varied social and cultural activity program gives you the chance to meet students from all over the world in a friendly atmosphere after French lessons, yet another chance to immerse yourself in the French language, especially during conversation evenings organised with French people.
The benefits of this French course
Our University preparation course for adults meets all your needs perfectly. This is definitely the type of language stay that is ideal for mastering a language, getting to grips with a certain working methodology specific to France and preparing yourself for university. This residential French course helps you to:
You will be given the tools you need to pass the DELF B2 and enrol in a French University
Acquire all the know-how and techniques for formal written and spoken communication
Boost your comprehension skills and well as your spoken French due to grammar lessons
Acquire vocabulary that is rich and accurate for successful communication.
Improve your elocution and train your face muscles so as to speak clearly
Get to grips with precise methodology for exams
Make progress step by step with individual guidance so as to strengthen your capacities
Better understand French civilisation today and French cultural habits
ILA advantages !
• Only Montpellier school accredited by IALC and EAQUALS
• First class French classes, small groups, top motivated teachers
• Excellent nationality mix: Students from 80 countries
• Wonderful premises in Montpellier's historic center
• Enjoy exciting activities, make friends from all over the world

Accommodation in Montpellier with ILA
ILA offers you high quality accommodations for French language immersion programs in Montpellier, South of France! Please choose your accommodation!

Our French language school in Montpellier provides you with excellent, carefully selected host families for your French language course in France!
Find out more
Price from 130 € / week

Meet many people from around the world during French language immersion stays in France. Learn French and enjoy our comfortable student residences!
Find out more
Price from 154 € / week

Our French language school in Montpellier offers this quality accommodation for your residential French language course in Montpellier. Enjoy learning French!
Find out more
Price from 130 € / week

Our French language school in Montpellier offers this independent, budget accommodation for residential French language immersion stays in France.
Find out more
Price from 150 € / week
Social activities and excursions
We want to make your French language stay in Montpellier an unforgettable experience. We therefore offer every week a numerous wonderful cultural and fun activities as well as fantastic excursions.