Our French language school in Montpellier tests your "Chef" talents thanks to our Standard French language Course for teenagers und juniors associated to cooking classes. Are you looking to mix during French language immersion programs in France studying French and distraction? This French language stay in Montpellier is made for you! It nourishes both your French language knowledge and your culinary desires. Cooking courses in France with a gourmet French chef will allow you to impress your friends by preparing successful French dinners when back home from your French language stay in Montpellier.
Course start Every Monday
Number of students 5 - 8 (max. 10)
Number of lessons 20 + 8
Minutes per lesson 45
Duration As of 1 week
Levels All levels
Level test Yes, online
Timetable 09:00 - 12:15
and 2 afternoons 15:30 - 19:00
Ages 16 +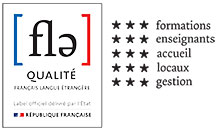 Quality Label FLE
We guarantee high quality teaching and services that are officially recognized by the quality label "Français Langue étrangère".
Course description
The Standard French language course for teens and juniors is a general residential French course which mainly serves to learn the 4 competences according to the CEFR (Common European Framework of reference for languages) recommendations: reading, writing, listening to speaking. Learning how to assimilate grammar and conjugation, gaining a richer vocabulary, and training to perceive the sounds of the French language, are the fundamental principles of this residential French course in France. You are also introduced to French culture and civilization which allows you to discover all its subtleties, essential to spend the best residential French language stay possible.
In addition to this French language course for teenagers and juniors, the cooking courses will introduce you to French gastronomy and its particularities, thanks to various recipes (dishes and desserts) that you can carry out in small groups, followed, of course, by a meal taken all together with the other participants to taste the prepared dishes.
The cooking school is located just next to our French school in Montpellier, and a gourmet chef will accompany you through the elaboration of these different recipes. He also brings the necessary French vocabulary to the kitchen such as the names of ingredients, utensils, but also the proper expressions adapted to the preparation of a recipe. He helps and advises you with pleasure throughout the cooking course in Montpellier.
Speaking French with the chef himself allows you to put into practice your gained knowledge through your French language immersion programs at our French language school in Montpellier.
*In high season the timetable can change
Who is this French course for?
This Standard French language course for teens and juniors with the cooking classes is open to all students as of A1 beginner level, who want to learn the basics of French and discover all the secrets of French gastronomy by combining delicious dishes made with a great French chef. For the cooking classes to be accessible to students of all levels, a specific vocabulary sheet is given to you before the first class.
The cooking courses are very focused on the "senses", that is to say on being able to taste, but also to touch, to see and to feel, even if you do not feel very comfortable yet with your French language level you will still get to enjoy it. It is very enriching to study French in France with this course formula because you can study while also distracting yourself and discovering, and practicing the French language in a fun way without noticing you are.
It really is a combination of French courses and classes to learn; exchange and meet, in a friendly atmosphere, which is essential to spend a pleasant time during French language immersion in France!
The benefits of this course
The Standard French language course for teenagers + cooking classes is the perfect residential French course if you want to learn French in Montpellier while having fun and discovering French gastronomy. This residential French course for juniors and teenagers in Montpellier helps you to:
make your French grammar knowledge even richer
reuse your speaking skills and not be afraid to communicate
develop your lexicon and enrich it with more specific subjects
succeed in understanding the different sounds and accents of the French language
clarify your knowledge of French culture and civilization
study French in France while having fun
discover the finesse of French cuisine and its specificities
ILA advantages !
• Only Montpellier school accredited by IALC and EAQUALS
• First class French classes, small groups, top motivated teachers
• Excellent nationality mix: Students from 80 countries
• Wonderful premises in Montpellier's historic center
• Enjoy exciting activities, make friends from all over the world
Accommodation in Montpellier with ILA
ILA offers you high quality accommodations for French language immersion programs in Montpellier, South of France! Please choose your accommodation!

Our French language school in Montpellier provides you with excellent, carefully selected host families for your French language course in France!
Find out more
Price from 130 € / week

Meet many people from around the world during French language immersion stays in France. Learn French and enjoy our comfortable student residences!
Find out more
Price from 154 € / week

Our French language school in Montpellier offers this quality accommodation for your residential French language course in Montpellier. Enjoy learning French!
Find out more
Price from 130 € / week

Our French language school in Montpellier offers this independent, budget accommodation for residential French language immersion stays in France.
Find out more
Price from 150 € / week
Social activities and excursions
We want to make your French language stay in Montpellier an unforgettable experience. We therefore offer every week a numerous wonderful cultural and fun activities as well as fantastic excursions.