If you wish to learn French in France whilst also enjoying summer in the South of France, our French language school in Montpellier organises French immersion summer programs for teens throughout the summer period. So, teenagers can benefit from Summer French courses based on communication, as well as making the most of language learning as part of a French language summer immersion program in the lovely Montpellier summer sun. This is a perfect language immersion stay in France combining study and pleasure!
Course start First Monday June to last Monday September
Number of students 5 - 8 (max. 10)
Number of lessons 20
Minutes per lesson 45
Duration As of 1 week
Levels All levels
Level test Yes, online
Timetable 09:00 - 12:15*
Ages 16 +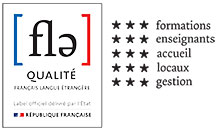 Quality Label FLE
We guarantee high quality teaching and services that are officially recognized by the quality label "Français Langue étrangère".
Course Description
Learning French in France is not just about assimilating skills but also being able to put them to use. This is exactly what you are encouraged to do during our residential Summer French courses for teenagers. The main idea of the Standard Summer French Course is to help develop both your speaking and writing skills together with your reading and listening comprehension according to recommendations from the CEFRL (Common European Framework for language reference).
Oral communication activities are used in summer French classes to improve your grammar, lexical and phonetic know-how and you will also get to learn more about French culture. You will find it easier to take part in everyday activities thanks to French language immersion, which is a particularly pleasant experience in the South of France, especially when you learn French in Montpellier in the summer.
All the summer French courses for teenager in our French language school in Montpellier are designed carefully so as to suit each level. A wide range of different activities are used to suit the individual needs of each person. You will have the chance to work with varied teaching materials: on paper (text books, newspapers…) or multimedia (internet, tablets, videos…) this means you benefit from classical school teaching too. For more authentic French language learning, we always encourage using documents from everyday life, which are particularly good for keeping up to date with the latest news. This is made optimal thanks to total French language immersion during your stay.
In fact, studying French in France is ideal during the summer; especially in Montpellier because the weather is so lovely here; the location is perfect because we are near to the beach and the mountains, an ideal setting for relaxing after your French summer courses.
*In high season the timetable can change
Who this French summer course is for
Many people see the summer period as a time to relax and have a break in the middle of the year. If you are looking to make the most of the summer to learn French in France as part of a language stay, then French summer courses in France for teens is exactly what you need. It is accessible to everyone, whatever your level (from A1 beginners to C2 advanced learners) and is a good compromise if you wish to study French in France and visit the beautiful city of Montpellier at the same time. Montpellier is right next door to the beach and particularly lively throughout the summer season.
Our French summer school in France offers residential French courses organised in small groups (no more than 10 students). Teachers can give you their undivided attention with regular follow-up to ensure you are making good progress during your French language stay. You also get to meet many different people because the summer French classes are very multicultural, an ideal situation for sharing experiences.
Moreover, our French language immersion school is located right in the heart of Montpellier and you are encouraged to see all the tourist attractions and enjoy the café terraces which are particularly nice during the summer. You get to improve your French communication skills for everyday purposes in a very natural way due to the friendly atmosphere both during the summer French classes and afterwards in full immersion.
You will learn French in Montpellier to use in real life situations so you need to be curious and make the very most of your residential French language course.
The Benefits of this course
This Summer French Standard course for teenagers and juniors takes place during the summer season and we make a point of helping you to improve your French language skills whilst also encouraging you to enjoy the summer. This residential French summer course gives you the chance to:
discuss various subjects in French
improve your ability to use grammar in context
understand and have access to a wide range of typical French words
recognize sounds used in everyday spoken French
go beyond 'school' learning by immersing yourself in the culture
study French and relax in a perfect summer environment
ILA advantages !
• Only Montpellier school accredited by IALC and EAQUALS
• First class French classes, small groups, top motivated teachers
• Excellent nationality mix: Students from 80 countries
• Wonderful premises in Montpellier's historic center
• Enjoy exciting activities, make friends from all over the world
Accommodation in Montpellier with ILA
ILA offers you high quality accommodations for French language immersion programs in Montpellier, South of France! Please choose your accommodation!

Our French language school in Montpellier provides you with excellent, carefully selected host families for your French language course in France!
Find out more
Price from 130 € / week

Meet many people from around the world during French language immersion stays in France. Learn French and enjoy our comfortable student residences!
Find out more
Price from 154 € / week

Our French language school in Montpellier offers this quality accommodation for your residential French language course in Montpellier. Enjoy learning French!
Find out more
Price from 130 € / week

Our French language school in Montpellier offers this independent, budget accommodation for residential French language immersion stays in France.
Find out more
Price from 150 € / week
Social activities and excursions
We want to make your French language stay in Montpellier an unforgettable experience. We therefore offer every week a numerous wonderful cultural and fun activities as well as fantastic excursions.