The intensive summer French course for teenagers is a very dynamic and lively French language course in Montpellier where emphasis is placed first and foremost on communication. Your French language immersion stay in France will be made worthwhile because you will be able to improve your language skills. During your French language immersion program at our French summer school in Montpellier you will even learn French when you take part in the leisure activities available; and you are sure to be placed in total language immersion when outside of our French immersion school in Montpellier. You will really enjoy learning French with a summer French course in Montpellier's wonderful summer season.
Course start First Monday June to last Monday September
Number of students 5 - 8 (max. 10)
Number of lessons 30
Minutes per lesson 45
Duration As of 1 week
Levels All levels
Level test Yes, online
Timetable 09:00 - 12:15*
and 3 afternoons 13:15 - 15:50
Ages 16 +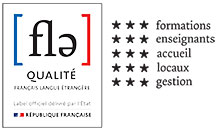 Quality Label FLE
We guarantee high quality teaching and services that are officially recognized by the quality label "Français Langue étrangère".
Course description
The summer intensive French course for teens and juniors in our French language school aims at putting students in real life everyday French social situations to help them communicate whilst also developing a deeper understanding of the French language. During this residential French summer course, you will learn how to listen, read, speak and write; these are the 4 basic skills recommended by the CEFRL (common European Framework of reference for languages). You will also develop a better understanding of grammar, vocabulary, lexical and phonetic skills.
Our intensive French course puts every emphasis on oral communication; you are encouraged to familiarise yourself with French culture and civilisation through communication activities such as debates or role play.
Our French teachers follow programs that can easily be adapted to your level, the different types of French language courses as well as your own individual objectives. When you learn French in France, most of the documents you have access to will be authentic ones from everyday French life and they are particularly varied: from multimedia (internet, tablets…) to more classical teaching material (manuals, novels…).
These French classes are perfect for a French immersion summer program because not only do you get to learn French in France, but you also get to enrich your cultural knowledge and really make the most of the friendly, festive environment at Montpellier in the South of France.
*In high season the timetable can change
Who this French course is for
If you want to have a nice time learning French, a new culture in the festive atmosphere in and around Montpellier, this intensive French summer course for teenagers is ideal for you! Whatever your level (from beginner A1 to advanced C2), you can enrol on the course.
You will soon be made to feel comfortable because there are never any more than 10 students per French class, which means you will be able to speak more and thus gain in fluency. Moreover, you will be surrounded by students with different nationalities so that can share your experiences together and have interesting conversations during your French language immersion stay in France.
Another important feature of our French school in Montpellier is that it is located right in the heart of the town, making it ideal for you to go off on walks around the town and enjoy the lovely sunlit terraces which are particularly pleasant in the summer. We are not far from the beach and you can get there by tram. This is great for sunbathing and relaxing after a good day's work in class at our French summer school in Montpellier.
This residential French summer course for adults is suitable if you wish to study French in France in total language immersion. You will feel supported because our qualified teachers are there to supervise you so that you make progress fast and effectively. You also get the opportunity to practice what you learn outside of class. Work, relaxation and discovery and summer heat: This is a perfect combination for making your French language stay in France worthwhile!
The benefits of this course
These Summer French intensive courses for teenagers are excellent if you wish to learn French and make the most of beautiful sunny days in Montpellier. This French course in Montpellier will help you to:
gain in confidence so as to speak more fluently
prepare yourself for coping with language difficulties that arise in everyday life
understand the morphological system of French and its rules
know how to use French vocabulary properly
learn to recognise different French sounds
add to your cultural awareness by familiarising yourself with the surrounding area
enjoy the summer atmosphere of Southern France
ILA advantages !
• Only Montpellier school accredited by IALC and EAQUALS
• First class French classes, small groups, top motivated teachers
• Excellent nationality mix: Students from 80 countries
• Wonderful premises in Montpellier's historic center
• Enjoy exciting activities, make friends from all over the world
Accommodation in Montpellier with ILA
ILA offers you high quality accommodations for French language immersion programs in Montpellier, South of France! Please choose your accommodation!

Our French language school in Montpellier provides you with excellent, carefully selected host families for your French language course in France!
Find out more
Price from 130 € / week

Meet many people from around the world during French language immersion stays in France. Learn French and enjoy our comfortable student residences!
Find out more
Price from 154 € / week

Our French language school in Montpellier offers this quality accommodation for your residential French language course in Montpellier. Enjoy learning French!
Find out more
Price from 130 € / week

Our French language school in Montpellier offers this independent, budget accommodation for residential French language immersion stays in France.
Find out more
Price from 150 € / week