The summer intensive French language course for adults encourages communication in a dynamic and lively way so as to improve French language skills. This is a residential French language course that finds the right balance between traditional classroom French learning and the pleasure of being able to enjoy all the leisure activities on offer at Montpellier in the summer. You are placed in total French language immersion both inside our French summer school in Montpellier and outside of the classroom. The activities on offer are varied and enriching.
Course start First Monday June to last Monday September
Number of students 5 - 8 (max. 10)
Number of lessons 30
Minutes per lesson 45
Duration As of 1 week
Levels All levels
Level test Yes, online
Timetable 09:00 - 12:15*
and 3 afternoons 13:15 - 15:50
Ages 16 +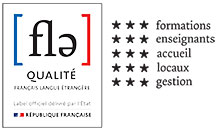 Quality Label FLE
We guarantee high quality teaching and services that are officially recognized by the quality label "Français Langue étrangère".
Course Description
The intensive French summer course for adults helps learners to communicate effectively on a daily basis whilst practising the 4 skills recommended by the CECRL (European Framework of reference for languages). Varying activities means that the teaching approach alternates between focusing on speaking or writing and reading or listening comprehension. The Standard French summer course ensures that the grammar basics are consolidated and that vocabulary and phonetics are improved during our French immersion programs.
The French intensive course for adults puts emphasis on speaking practice and the importance of learning about French civilisation so as to better understand the French people, their way of life as well as their way of thinking. Debates, role plays and presentations are used extensively so that students can adapt to different everyday situations where formal French may be needed.
Teachers organise their residential summer French courses according to language programs that are carefully prepared by our French school in France. The courses are tailored not only to suit each French level but also each type of French summer course so as to better meet students' needs, which very often differ from one student to another in each French language course. The teaching material used is varied to suit mixed needs and the use of authentic documents is encouraged so as to help students integrate themselves into French daily life.
The French immersion summer programs for adults in Montpellier have quite a considerable advantage: the sun! You get the chance to learn French in France to improve your French language skills but also take time to enjoy a complete change of scenery on the Mediterranean coast. Our summer language stays are not just about learning French, but they give you the chance to soak up the French "art de vivre"!
*In high season the timetable can change
Who this summer course is for
The French Summer intensive language course for adults is open to everyone, from beginners (A1) to advanced learners (C2). It gives you the chance to either acquire the basics of general French or improve what you already know in a relaxed atmosphere, living to the pace of Mediterranean festivals.
To make sure you gain in confidence and meet up with students from all different horizons, near or far, there are never more than 10 students in the summer French class at our French school in Montpellier. Student bonding makes outings to Montpellier and its surroundings even more fun.
Activities outside of the classroom are encouraged thanks to the ideal location of our French summer school in Montpellier. Cultural tourism and gastronomical visits are available during your residential French language stay. You can do sports activities or just spend time relaxing either at the seaside or in the mountains. It really is nice to feel like you are on holiday whilst still benefiting from educational support for learning French in France and making progress fast.
The French Summer intensive course for adults is a language immersion program you will enjoy!
The benefits of this course
The French summer intensive course for adults is great for learning French in France and adopting the laid back Mediterranean way of life in beautiful sunshine. This residential French summer course in France will help you to:
Feel comfortable when speaking in public
Interact in various everyday situations
Apprehend grammar so as to be able to communicate better
Improve lexical skills already acquired whilst also learning new expressions
Improve your pronunciation of French words
Dedicate your free time to enriching cultural awareness
Adopt a sunny Mediterranean state of mind and appreciate all the joys of summer festivals
ILA advantages !
• Only Montpellier school accredited by IALC and EAQUALS
• First class French classes, small groups, top motivated teachers
• Excellent nationality mix: Students from 80 countries
• Wonderful premises in Montpellier's historic center
• Enjoy exciting activities, make friends from all over the world
Accommodation in Montpellier with ILA
ILA offers you high quality accommodations for French language immersion programs in Montpellier, South of France! Please choose your accommodation!

Our French language school in Montpellier provides you with excellent, carefully selected host families for your French language course in France!
Find out more
Price from 130 € / week

Meet many people from around the world during French language immersion stays in France. Learn French and enjoy our comfortable student residences!
Find out more
Price from 154 € / week

Our French language school in Montpellier offers this quality accommodation for your residential French language course in Montpellier. Enjoy learning French!
Find out more
Price from 130 € / week

Our French language school in Montpellier offers this independent, budget accommodation for residential French language immersion stays in France.
Find out more
Price from 150 € / week
Social activities and excursions
We want to make your French language stay in Montpellier an unforgettable experience. We therefore offer every week a numerous wonderful cultural and fun activities as well as fantastic excursions.