With our French summer courses for adults in Montpellier you can take advantage of the summer holiday for a residential summer language stay, an excellent way to learn French in France and have time to enjoy the sun! Our French Summer school in Montpellier has the advantage of being located right in the heart of lively Montpellier that is close to the coast and wonderful beach. Learn French in Montpellier as part of a French Immersion Summer Program during which you can soak up the Southern French 'art de vivre'.
Course start First Monday June to last Monday September
Number of students 5 - 8 (max. 10)
Number of lessons 20
Minutes per lesson 45
Duration As of 1 week
Levels All levels
Level test Yes, online
Timetable 09:00 - 12:15*
Ages 16 +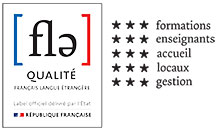 Quality Label FLE
We guarantee high quality teaching and services that are officially recognized by the quality label "Français Langue étrangère".
Course description
Our Summer Standard French Language Course is designed for all levels for beginners to advanced students. Emphasis is placed first and foremost on oral communication based on the four language skills recommended by the CEFRL (Common European Framework of reference for languages). Teaching material is varied accordingly so that students can work on their comprehension skills as well as their oral and written communication. And just to spice things up, attention is also given to grammatical structures, vocabulary and phonetics during French classes in France. Basic learning skills are put into practice straight away in the various activities organised by our French language summer school in Montpellier. The key to success in our French Language Summer Courses is that you not only study French in France but there is also time for you to relax in a holiday atmosphere in the South of France.
Whatever your level in French, our French immersion programs are prepared carefully so as to suit your level and meet your own personal needs. Teachers use a variety of teaching material for their communication activities in class and prefer to use authentic source documents. It is vital that you make the most of all the culture Montpellier has to offer you because this will optimise what you learn during our French immersion summer program for adults! We guarantee you will improve your French language skills very quickly thanks to our French summer courses in France because you will be able to put into practice what you learn immediately.
The French Standard language course leaves you enough free time to work at your own pace and make the most of all the charm of the region as well as the many international festivals organised here during the Summer: 'Printemps des Comédiens' (Theatre festival), 'Festival de radio France' (French radio festival), to name but a few. The vibrant city of Montpellier has so much to offer for French language immersion students.
*In high season the timetable can change
Who this French course is for?
Our summer French language courses in France for adults suits all types of students from beginners (level A1 on the CEFRL) to advanced learners (level C2 on the CEFRL) who are looking to have an 'intelligent' holiday learning or improving their French language skills and explore the wonderful region around Montellier.
Our French school is in the historical centre of Montpellier which means you can easily integrate the cultural environment into standard French lesson activities. Moreover, the beach is just next door, sunbathing on the beach is strongly advised. So, all of this makes learning French in France a truly unique experience in a pleasant Mediterranean atmosphere typical of the South of France.
When you attend our French summer course for adults you will be able to both learn French and enjoy the sights and savours of the region. Our French school organises local food and drink tastings every week together with culinary classes headed by a starred Chef from the Michelin guide.
On our residential French courses, each class has ten places available during which students from all over the world can get to know each other in a friendly atmosphere. The reduced number of students per class means that it is easier for everyone to practice speaking and build relationships with other foreign students who all share the same craving to study French in France and get acquainted with French customs and traditions. Studying in France is a nice way of opening up to the rest of the world!
The Benefits of this French summer course
Our Summer French Standard course for adults guarantees you will acquire the basics for language skills, communication and French culture all put into practice on a daily basis by way of French language immersion together with cultural and social activities that are very varied. Our French summer course will help you to:
improve fluency and feel comfortable when speaking French
react appropriately in various everyday situations without feeling stressed
learn and revise the main grammar points
master a wide range of vocabulary during your French summer course
make yourself understood by using the right pronunciation
learn about the treasures of Mediterranean cultural heritage
take time to live the life of real French people
recharge your batteries and develop new skills
ILA advantages !
• Only Montpellier school accredited by IALC and EAQUALS
• First class French classes, small groups, top motivated teachers
• Excellent nationality mix: Students from 80 countries
• Wonderful premises in Montpellier's historic center
• Enjoy exciting activities, make friends from all over the world
Accommodation in Montpellier with ILA
ILA offers you high quality accommodations for French language immersion programs in Montpellier, South of France! Please choose your accommodation!

Our French language school in Montpellier provides you with excellent, carefully selected host families for your French language course in France!
Find out more
Price from 130 € / week

Meet many people from around the world during French language immersion stays in France. Learn French and enjoy our comfortable student residences!
Find out more
Price from 154 € / week

Our French language school in Montpellier offers this quality accommodation for your residential French language course in Montpellier. Enjoy learning French!
Find out more
Price from 130 € / week

Our French language school in Montpellier offers this independent, budget accommodation for residential French language immersion stays in France.
Find out more
Price from 150 € / week
Social activities and excursions
We want to make your French language stay in Montpellier an unforgettable experience. We therefore offer every week a numerous wonderful cultural and fun activities as well as fantastic excursions.