Our summer standard French course plus for adults combines the standard French language course with private French lessons. Emphasis is placed first and foremost on communication when learning French. Our French immersion school in Montpellier makes sure there is a nice class atmosphere so that students are encouraged to speak and get involved in conversation. Particular attention is given to the needs of each individual student during French private training. Follow our French language immersion programs and cultural programs throughout the summer in Montpellier will enable you to learn French when enjoying a great time in the South of France.
Course start First Monday June to last Monday September
Number of students 5 - 8 (max. 10)
1 for private course
Number of lessons 20 + 5
Minutes per lesson 45
Duration As of 1 week
Levels All levels
Level test Yes, online
Timetable 09:00 - 12:15*
plus 5 private lessons
Ages 16 +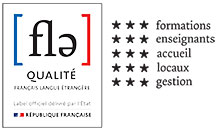 Quality Label FLE
We guarantee high quality teaching and services that are officially recognized by the quality label "Français Langue étrangère".
Course description
The standard French summer course plus for adults gives learners the opportunity to improve the four skills recommended by the CEFRL (European Framework of reference for languages): reading and listening comprehension as well as speaking and writing. This is the chance for each student to learn or improve grammar, vocabulary and phonetics as well as live in total French language immersion. Students can soak up the French culture and discover the varied cultural heritage on offer in Montpellier and the Mediterranean region. Learning French in France whilst enjoying the wonderful weather really is a good perspective!
Our French language school in Montpellier bases residential summer courses plus for adults on quality programs that are tailored to suit each level. Teachers adapt French private training to suit the needs of each student whether this is for work, studying or simply personal development. They are tuned in to students individual needs and requests and do their very best to ensure progress is made effectively. Students are kept motivated and their curiosity aroused thanks to using authentic source documents with varied teaching material. During activities, students not only get to discover and practice the French language but also explore the cultural beauty and summer animations in wonderful Montpellier.
The standard French summer course plus for adults is a French language immersion stay that provides the right balance between developing communication capacities and achieving personal or professional ambitions. Dynamic and lively group work is the key to success.
*In high season the timetable can change
Who this summer course is for
This standard French summer course plus for adults suits all students from beginners (A1) through to advanced learners (C2) who are eager to improve their general French language skills and find answers to various questions both regards the language and French customs. This course will also appeal to students who are looking to enjoy the excellent weather in Montpellier.
Combing the standard French summer course for adults with private French training guarantees you will make progress fast and effectively thanks to varied teaching approaches all of which are carefully designed to complement one another. This residential French course formula only has places for a maximum of 10 students per group so that students can work in small French classes. Conversation between different students in and out of the French classes is beneficial because they get to share information, experience and general knowledge. French private training clarifies any details with regards to personal or professional matters.
The standard French summer class plus for adults is ideal for students from all over the world because they get to build up relationships and enjoy summer fun together in and around Montpellier. This is a real chance for you to relax whilst also putting into practice the French you learn in our French school in Montpellier during our French immersion summer program.
The advantage of French private lessons is that individual requirements can be met fast and effectively. You are given the opportunity to tackle specific themes or prepare to sit French exams. If you choose the standard summer French course plus, you will be able to take the time to learn and progress at your own pace whilst also making the most of the laid back atmosphere of sunny Montpellier in the summer.
This is a perfect residential French course with total French language immersion that manages to blend work and leisure so that you can really make the most of your summer holiday.
The benefits of this summer course
The summer French standard course plus for adults conciliates learning French with distraction in a joyful and festive atmosphere typical of Montpellier in the summer. This residential French course will help you to:
Speak confidently in public during your French language stay in Montpellier
Express yourself in everyday situations in shops or when dealing with administrative formalities
Acquire and improve general and specific vocabulary
Learn how to articulate properly when trying to recreate French sounds
Fix individual objectives and reach them
Organise your work schedule easily and with no stress
Understand French culture so as to fit in better with their way of life
Enjoy lazy days in a region that has so many wonderful things to offer you
ILA advantages !
• Only Montpellier school accredited by IALC and EAQUALS
• First class French classes, small groups, top motivated teachers
• Excellent nationality mix: Students from 80 countries
• Wonderful premises in Montpellier's historic center
• Enjoy exciting activities, make friends from all over the world
Accommodation in Montpellier with ILA
ILA offers you high quality accommodations for French language immersion programs in Montpellier, South of France! Please choose your accommodation!

Our French language school in Montpellier provides you with excellent, carefully selected host families for your French language course in France!
Find out more
Price from 130 € / week

Meet many people from around the world during French language immersion stays in France. Learn French and enjoy our comfortable student residences!
Find out more
Price from 154 € / week

Our French language school in Montpellier offers this quality accommodation for your residential French language course in Montpellier. Enjoy learning French!
Find out more
Price from 130 € / week

Our French language school in Montpellier offers this independent, budget accommodation for residential French language immersion stays in France.
Find out more
Price from 150 € / week
Social activities and excursions
We want to make your French language stay in Montpellier an unforgettable experience. We therefore offer every week a numerous wonderful cultural and fun activities as well as fantastic excursions.