Our French language school in Montpellier offers French private training for adults all year round. During this residential French course, which is tailored to suit students' individual needs and level, Teachers provide personal guidance to ensure you make during your French language stay in France progress effectively. Studying French in France gives you the chance to do much more than just master the French language. In fact, choosing French language immersion programs means that you also get familiar with French culture during your French language stay.
Course start Every Monday
Number of students 1
Number of lessons 20, 25, 30 or 40
Minutes per lesson 45
Duration As of 1 week
Levels All levels
Level test Yes, online
Timetable Depends on number of lessons
Ages 16 +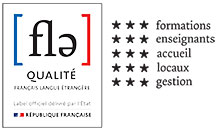 Quality Label FLE
We guarantee high quality teaching and services that are officially recognized by the quality label "Français Langue étrangère".
Course Description
Our French private lessons for adults are personalised, with 20, 25, 30 or 40 classes a week and each student's needs are examined in advance to tailor lessons to suit these needs.
Our French language school in Montpellier focuses on communication based on the 4 skills recommended by the CEFRL (Common European Framework of reference for languages). In this way, listening and reading comprehension is tackled by way of varied activities without neglecting grammar, vocabulary or phonetics. Priority is given to the student's own requests.
French private training is in fact "custom made" by the Teacher so that the student can reach their required level in French and achieve their goal as effectively as possible. Objectives are sometimes readjusted by the Teacher if the student has difficulties during certain activities.
French Private lessons give free rein to conversation with varied teaching material: Videos, audio recordings, internet with classes equipped with digital equipment, tablets, but also documents in paper format such as newspapers, books or manuals. French immersion programs also give you the opportunity to work with authentic documents for cultural, linguistic and lexical enrichment. Another advantage of learning French in France is that you better understand the current state of the country (current economic situation, political context and current work-status…).
Learn French in Montpellier with private training and you will be able to go out and do outdoor activities in everyday life situations that require authentic communication.
Who this class is for
French private training for adults is dedicated to all students from beginners (level A1) to advanced speakers (level C2), who wish to improve their French in the way they have chosen whilst also trying to dig deeper into the French language world and culture.
Learning French in Montpellier means that you can satisfy your desire to make progress fast thanks to personalised support to meet individual needs and requests. It is thus possible to study grammar as well as specialised French (medicine, trade, hotel…) or even prepare for an exam such as the DELF/DALF (French language studies diploma/advanced French language diploma) or the DPF (Qualification in professional French).
Each lesson lasts 45 minutes (with the possibility of putting one lesson after another), and of course there is always only ever one student in a lesson, which means the French lesson can be adapted to suit the student's learning speed and profile – for example whether the student is calm or dynamic, shy or communicative; and according to learning styles that may be visual, auditive or tactile. Learning French in Montpellier by way of various types of courses is really beneficial because you can optimise learning the language and actually put what you have learnt into practice throughout your entire language immersion stay; you also have access to individualised training targeting specific objectives.
The Benefits of this course
French private training for adults is a very good idea for those who wish to benefit from individual guidance and really personalise their French immersion course. The course is ideal for:
Understanding French grammar rules
Maintaining and developing speaking skills
Maximising your range of French vocabulary
Managing to recognise standards for the French phonetic system
getting to grips with French cultural particularities
Enjoying individualised teaching tailored to suit your needs
Making progress faster but always at your own pace
ILA advantages !
• Only Montpellier school accredited by IALC and EAQUALS
• First class French classes, small groups, top motivated teachers
• Excellent nationality mix: Students from 80 countries
• Wonderful premises in Montpellier's historic center
• Enjoy exciting activities, make friends from all over the world
Accommodation in Montpellier with ILA
ILA offers you high quality accommodations for French language immersion programs in Montpellier, South of France! Please choose your accommodation!

Our French language school in Montpellier provides you with excellent, carefully selected host families for your French language course in France!
Find out more
Price from 130 € / week

Meet many people from around the world during French language immersion stays in France. Learn French and enjoy our comfortable student residences!
Find out more
Price from 154 € / week

Our French language school in Montpellier offers this quality accommodation for your residential French language course in Montpellier. Enjoy learning French!
Find out more
Price from 130 € / week

Our French language school in Montpellier offers this independent, budget accommodation for residential French language immersion stays in France.
Find out more
Price from 150 € / week
Social activities and excursions
We want to make your French language stay in Montpellier an unforgettable experience. We therefore offer every week a numerous wonderful cultural and fun activities as well as fantastic excursions.