Our Intensive French language courses for teenagers and juniors are based on communication, and on studying all the different linguistic and cultural aspects of French. You want to learn French fast? The choice of a French language immersion stay at a well-recognised French language school in France is the best way! Learn French in France, and more specifically in our French language school in Montpellier, is a great way to improve and perfect your French very fast.
Course start Every Monday
Number of students 5 - 8 (max. 10)
Number of lessons 30
Minutes per lesson 45
Duration As of 1 week
Levels All levels
Level test Yes, online
Timetable 09:00 - 12:15*
and 3 afternoons 13:15 - 15:50
Ages 16 +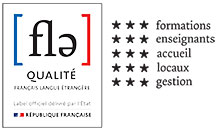 Quality Label FLE
We guarantee high quality teaching and services that are officially recognized by the quality label "Français Langue étrangère".
Course description
The Intensive French language Course for teens combines the linguistic learning of the Standard Course with additional French lessons set more specifically to develop all the oral skills (oral comprehension and expression). It is a good balance between all basics of French learning (writing, reading, listening and speaking), grammar, vocabulary, phonetics and the use of French to improve your oral expression and your knowledge of France.
In our French language school in France, each level has a specific program, and objectives carefully designed to be appropriate for each level and type of French course. All the activities offered in the Intensive French course for teenagers are aimed to make you communicate, and are an opportunity for you to consolidate your achievements while opening doors to a new lexical world, and a deeper training of pronunciation.
The secrets of French culture and civilization are revealed to you, thanks to the use of varied media in the French classes, and this will also be enriched by your French immersion at our French Language School in Montpellier.
To encourage communication in a playful way, the Intensive French language Course for teenager und juniors emphasizes on role plays, presentations and debates, which directly put into use the fundamental learnings necessary to oral expression itself. Studying French in France gives you access to various authentic documents, which makes learning French all the more alive. You will be surprised to include press articles, excerpts from cult movies or small videos that you think are too complicated.
The Intensive French Course is all the more lively and makes your learning more real, because you benefit from the geographical location of our French Language School. Our French school is in the heart of Montpellier, and our teachers offer you activities outside from school which help meet French people and practice the French language in authentic situations. It is a complete French immersion program.
*In high season the timetable can change
Who for is this French course
This Intensive French Course is optimal for students who have the motivation to learn French in France quickly and to work more thoroughly on oral expression. Whether you want to get started as a beginner (levels A1 or A2), deepen your knowledge (levels B1 or B2), or are at an advanced level (levels C1 or C2), the Intensive French Course is effective to accompany you profitably through your goals.
In order for learning to remain a pleasure, the approached subjects are varied and adapted to your concerns and interests, so as to help you express yourself easily. This will encourage you to get through everyday life. The small size of the groups contributes to a more spontaneous speech. It will also mean you get to meet people from all different cultures, since approximately 70 different nationalities participate in our residential French courses over the year.
The Intensive French language Course for juniors is beneficial if you have the ambition to quickly and effectively progress, with, on one hand, a solid learning of the French language, and on the other hand a dynamic French immersion at the heart of the practice.
The benefits of this course
The Intensive French language course for teenagers is an adequate residential language stay to conceal a fast and deep French learning in the most effective way. It will help you:
boost your speech in all sorts of different situations
get your way through day to day dialogues
consolidate your grammar during French immersion courses
gain new vocabulary during your French language stay
work on pronunciation to progress in a fun way
become familiar to French civilization and culture
ILA advantages !
• Highest quality accreditations
• Academic excellence
• First class facilities / services
• Prime central location
• Friendly international atmosphere
Accommodation in Montpellier with ILA
ILA offers you high quality accommodations for French language immersion programs in Montpellier, South of France! Please choose your accommodation!

Our French language school in Montpellier provides you with excellent, carefully selected host families for your French language course in France!
Find out more
Price from 130 € / week

Meet many people from around the world during French language immersion stays in France. Learn French and enjoy our comfortable student residences!
Find out more
Price from 154 € / week

Our French language school in Montpellier offers this quality accommodation for your residential French language course in Montpellier. Enjoy learning French!
Find out more
Price from 130 € / week

Our French language school in Montpellier offers this independent, budget accommodation for residential French language immersion stays in France.
Find out more
Price from 150 € / week