Our long-term standard French language course for adults focuses on communication which plays an important role in the process of learning French grammar. Our French language immersion school offers you the chance to learn French in total language immersion, which is ideal for motivating students and helping them to gain enough confidence to speak French. French language immersion in France is also good for soaking up French culture. Constant individualised support and guidance are provided by our French language school in Montpellier so as to ensure you improve effectively.
Course start Every Monday
Number of students 5 - 8 (max. 10)
Number of lessons 20
Minutes per lesson 45
Duration 20 weeks +
Levels All levels
Level test Yes, online
Timetable 09:00 - 12:15*
Ages 16 +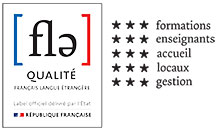 Quality Label FLE
We guarantee high quality teaching and services that are officially recognized by the quality label "Français Langue étrangère".
Course description
The long-term standard French course for adults develops a deeper understanding of the French language by using the approach of concentrating on the 4 skills recommended by the CEFRL (Common European framework of reference for languages). This means that students work on their listening and reading comprehension as well as their speaking and writing skills. Grammar, vocabulary and phonetics are also studied so as to gain in fluency for daily communication.
Our French immersion programs in Montpellier are carefully tailored to suit each level and every type of French course; this ensures constant and regular improvement. Presentations, debates and role play are regularly used in class to train students for everyday real life communication. A further advantage is that the students are placed in total French language immersion. In fact, after French class it is so easy to put into practice what you have learnt at our French language school because the shops and monuments are only just next door; this helps you not only to practice the language but also take the time to live life 'à la française' (like a French person).
Teachers have plenty of authentic source texts for helping you to work towards your objectives in varied, solid and up-to-date ways. Emphasis is placed on using Videos, adverts, newspapers and internet in class. When you learn French in France, you automatically have access to authentic documents, which means you can learn French based on real life and by seeing the latest news.
Your French language stay in Montpellier will really be made worthwhile because the long-term French standard course guarantees regular and serious guidance and support throughout your entire French language immersion stay. A teacher will help you define the different stages to include in your learning process so to reach the objectives you have fixed. This follow-up will keep you motivated and you will be involved in planning your own learning process.
*In high season the timetable can change.
Who this French course is for
This long-term standard French course for adults is a residential French language course that is ideal for those who wish to study French in France for at least 20 weeks and for a very reasonable price. The French language programs are designed to suit students from beginners to advanced learners (A1 to C2 level).
Learning French as part of a Long-term language immersion course teaches you how to understand French people better whilst also giving you the chance to share their daily life. The long-term French language course for adults is particularly good because you get to find the right balance between time spent in French class and time spent wandering through the streets of sunny Montpellier, sitting at café terraces, visiting monuments in and around the town as well as soaking up the French way of life.
To meet everyone's' needs and take their interests into account, the themes tackled during the standard French course are varied and chosen to encourage conversations. The conversations you will have are made particularly interesting because you get to speak with learners from all over the world. Moreover, you will always comfortable when they speaking in class because at our French language immersion school we have small groups with no more than 10 students. Regular educational guidance is necessary so that you keep to your objectives, define the stages to include in your French learning process and become aware of the progress you are making.
 The benefits of this French course
The long-term French standard language course for adults provides solid foundations for working towards mastering the French language. You will learn French in Montpellier at your own pace and have the time to visit the region. Educational guidance ensures coherent and constant progress. This residential French course helps you to:
get stimulated so that you can speak French all day and prepare for coping with all daily communication situations.
Gain enough confidence to be able to speak both in formal and informal situations.
Become aware of new grammar rules and improve what your skills
Improve your language skills and understand new expressions thanks to extending your range of vocabulary; you will be able to do well using your new words
Work on pronunciation, rhythm and intonation to express yourself better
Prepare getting to university or entering the world of work
Reach your objectives in an elaborate way that is monitored thanks to educational guidance and support.
Soak up the French language and visit the region to see all the wonders it has to offer, both with the school and in your own free time
ILA advantages !
• Only Montpellier school accredited by IALC and EAQUALS
• First class French classes, small groups, top motivated teachers
• Excellent nationality mix: Students from 80 countries
• Wonderful premises in Montpellier's historic center
• Enjoy exciting activities, make friends from all over the world
Accommodation in Montpellier with ILA
ILA offers you high quality accommodations for French language immersion programs in Montpellier, South of France! Please choose your accommodation!

Our French language school in Montpellier provides you with excellent, carefully selected host families for your French language course in France!
Find out more
Price from 130 € / week

Meet many people from around the world during French language immersion stays in France. Learn French and enjoy our comfortable student residences!
Find out more
Price from 154 € / week

Our French language school in Montpellier offers this quality accommodation for your residential French language course in Montpellier. Enjoy learning French!
Find out more
Price from 130 € / week

Our French language school in Montpellier offers this independent, budget accommodation for residential French language immersion stays in France.
Find out more
Price from 150 € / week
Social activities and excursions
We want to make your French language stay in Montpellier an unforgettable experience. We therefore offer every week a numerous wonderful cultural and fun activities as well as fantastic excursions.