Our 50+ French language courses in France for over 50s combine deepening of the elementary rules of language, and the discovery of the cultural, historical and gastronomic wealth of Montpellier and its surroundings. Learning French in Montpellier in a small group in residential French courses and with learners sharing the same interests facilitates oral communication and linguistic immersion, inviting the application of your learning progress in real life situations.
Course start 02 March 2020
04 May 2020
07 September 2020
05 October 2020
01 March 2021
03 May 2021
06 September 2021
04 October 2021
Number of students 5 - 8 (max. 10)
Number of lessons 20 + activity pack
Minutes per lesson 45
Duration 1 or 2 weeks
Levels A2 - C1
Level test Yes, online
Timetable 09:00 - 12:15
plus activities
Ages 50 +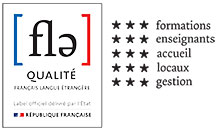 Quality Label FLE
We guarantee high quality teaching and services that are officially recognized by the quality label "Français Langue étrangère".
Course description
The 50+ French language courses for seniors at our French language school in Montpellier goes through the 4 competences according to the CEFR recommendations: oral and written expressions, and oral and written comprehension. Grammar is exploded, your lexical knowledge embellishes with new expressions and refined phonetics through various articulatory exercises. Each offered activity aims to stimulate communication within the classroom, but also on a daily basis to make the most of your French Immersion Program in France.
Our French Language School in Montpellier offers a program designed with care so as to meet the needs and interests of each one of you. During this French class in France, many activities in the classroom revolve around visits or tastings, to get you exchanging and enriching your vocabulary, in order to prepare you for the cultural activities included in your 50 + French language program. For more relevance, the selected used documents in class are authentic. And for the course to remain dynamic, playful activities are led by our teachers.
For better communication and complicity with the other learners, our 50+ French classes in France for over 50s are enhanced with excursions and outings that reinforce the group spirit. Montpellier visits and excursions to the city's surroundings are organized by our French Language School, as well as evening events in restaurants, or culinary tastings / workshops, so that the communication between the participants continues in various unformal places.
The 50+ French Course for seniors promises tailor-made learning as well as beautiful discoveries and new friendships. Learning French by choosing this option for a language stay in France, means being able to satisfy your curiosity and desire to know more about France. It is living new experiences, associating the linguistic and cultural aspects of your trip. It is also about meeting with other seniors, to learn French together and to enjoy a wonderful time together.
Our 2 weeks package includes:
2 guided city tours
1 afternoon activity
1 restaurant evening
2 food/wine tastings
2 half day excursions
1 full day excursion
The French course runs in the morning. The activities take place in the afternoon/evening. All activities are accompanied by your teacher.
Example activity program
Week 1
Sunday: Arrival
Monday: City tour "historic center", welcome drink 
Tuesday: Tasting of local products 
Wednesday: Free time
Thursday: Visit Chateau Flaugergues 
Friday: Half day excursion to Nimes
Saturday: Full day excursion to Avignon and Pont du Gard 
Week 2
Monday: City tour "new city" center 
Tuesday: Wine and cheese tasting 
Wednesday: Free time
Thursday: Dinner with ILA staff in restaurant
Friday: Half day excursion to Sète
Saturday: Departure
Who is this French course for?
This 50+ standard French course requires at least an A2 level, and is perfectly suited for learners who want to combine studying with pleasure, in a context where learners are pampered for 2 weeks during their French Language Immersion with other people sharing commonalities.
Our French school in the heart of Montpellier opens its doors to multiple experiences in context, thanks to the proximity of our school to all shops, cafés and restaurants. Once your daily standard French course is over, the practice of French is right there for you, thanks to our linguistic immersion programs.
The size of the class group invites to conviviality and leaves space to let to each one of you speak, which is ideal to make new acquaintances in a short time. Studying French in France favours you to meet French people, but also other people sharing your residential French course, who have the same wish as you to discover and go through all the mysteries of French and France.
The 50+ French Course is a good balance between class time for accompanied communication, and informal exchanges during trips and outings while sparing time to work at your own pace.
The benefits of this course
The 50+ French language Courses for seniors harmoniously mix linguistic learning of French with the exploration of France culture. This course helps you to:
speak spontaneously in order to take part any type of conversation
be more independent in everyday situations and in commonplaces
strengthen, deepen and master the rules of grammar
vary vocabulary and have a richer lexical panel
 correct your pronunciation to be closer to the real French melody
take advantage of advice and explanations during gourmet tastings
visit Montpellier and the region and enjoy its remarkable cultural heritage
ILA advantages !
• Only Montpellier school accredited by IALC and EAQUALS
• First class French classes, small groups, top motivated teachers
• Excellent nationality mix: Students from 80 countries
• Wonderful premises in Montpellier's historic center
• Enjoy exciting activities, make friends from all over the world
Accommodation in Montpellier with ILA
ILA offers you high quality accommodations for French language immersion programs in Montpellier, South of France! Please choose your accommodation!

Our French language school in Montpellier provides you with excellent, carefully selected host families for your French language course in France!
Find out more
Price from 130 € / week

Meet many people from around the world during French language immersion stays in France. Learn French and enjoy our comfortable student residences!
Find out more
Price from 154 € / week

Our French language school in Montpellier offers this quality accommodation for your residential French language course in Montpellier. Enjoy learning French!
Find out more
Price from 130 € / week

Our French language school in Montpellier offers this independent, budget accommodation for residential French language immersion stays in France.
Find out more
Price from 150 € / week
Social activities and excursions
We want to make your French language stay in Montpellier an unforgettable experience. We therefore offer every week a numerous wonderful cultural and fun activities as well as fantastic excursions.