Our French school in Montpellier offers you summer standard French courses »plus » for teenagers. It is a very good formula for a French language stay in Montpellier because it combines a standard French language course with French private training, more specifically and meeting your personal needs. In short, you will have access to a complete French learning program in total French language immersion all in the excitement of summer in Montpellier.
Course start First Monday June to last Monday September
Number of students 5 - 8 (max. 10) (1 for private course)
Number of lessons 20 + 5
Minutes per lesson 45
Duration As of 1 week
Levels All levels
Level test Yes, online
Timetable 09:00 - 12:15*
plus 5 private lessons
Ages 16 +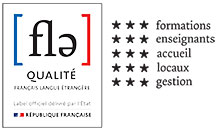 Quality Label FLE
We guarantee high quality teaching and services that are officially recognized by the quality label "Français Langue étrangère".
Course description
This summer standard French course plus for teens will help you to develop the 4 main French language skills according to the CEFRL (common European framework of reference for languages): listening and reading comprehension and speaking and writing. Communication is always made a priority to help you understand French grammatical rules, extend your range of vocabulary and also differentiate between the different sounds that exist in the French language, whilst also discovering the diversity of French culture.
When you learn French in France, especially at our French school in Montpellier, you open the doors to a lovely summer atmosphere.
In our French language school in Montpelier, you will be able to make progress efficiently thanks to programs that are adapted to suit your level and skills. The teachers are there for you to help pinpoint your needs for work, studying or just for personal pleasure. You will work together on a regular basis working on a personal plan that you define together to make sure that you make progress as efficiently as possible and reach the objectives that you fixed for your language immersion stay in France.
Thanks to the use of authentic source documents, you will be able to work whilst also learning more about the culture that surrounds you and this will motivate you even more! Varied teaching material such as manuals, newspapers, or internet, tablets, videos etc. will also ensure that you never get bored because studying French in France must remain pleasurable.
This is a French language immersion program that is really very well balanced, because you re-incited to work on the French language as a whole, in a communicative way, whilst also having French private lessons to help you to best achieve your goals.
*In high season the timetable can change
Who this French summer course is for 
This standard summer French course plus for teenagers is open to students of all levels (from beginners A1 to advanced C2), those who wish to learn French in France or improve skills that they have already acquired, but also personal guidance to help achieve particular personal goals. All of this takes place in the friendly, bubbly atmosphere of the South of France!
The benefit of this French is that you get to improve in a French class with a reduced number of students in a small group (maximum of 10 students) in the standard French course, but you will also have the chance to work with a teacher who is there just for you to make sure that all your questions are answered during the private French training.
Getting the chance to meet other students from countries from all over the world is a great advantage. This really is an ideal residential French summer course because you can share your experiences with the others and feel that you are all together in the same adventure.
Another advantage to this summer course is that you will study French in a French immersion school in Montpellier that is right in the heart of the town. This is an excellent chance for you to enjoy the festive atmosphere of the sun-kissed terraces and long Mediterranean summer nights.
Studying French in France is the chance of a lifetime because you will be able to soak up everything around you, not just the French language but also the French culture. This language immersion program is perfect for a remarkable French language stay for juniors!
The benefits of this French course
This summer standard French course plus for teenagers is a good idea if you wish to work efficiently and take time to relax whilst making the most of summer in Montpellier. This French language course will help you to:
have the confidence to take part in a simple discussion
calmly tackle common communication situations
brave the difficulties of grammar that seems very complex at first sight
increase your range of standard and specialised vocabulary
recognise specific French sounds during your French language stay
fix a specific aim and reach it
visit a sunny region so as to not to miss any of the mediterranean cultural heritage
Accommodation in Montpellier with ILA
ILA offers you high quality accommodations for French language immersion programs in Montpellier, South of France! Please choose your accommodation!

Our French language school in Montpellier provides you with excellent, carefully selected host families for your French language course in France!
Find out more
Price from 130 € / week

Meet many people from around the world during French language immersion stays in France. Learn French and enjoy our comfortable student residences!
Find out more
Price from 154 € / week

Our French language school in Montpellier offers this quality accommodation for your residential French language course in Montpellier. Enjoy learning French!
Find out more
Price from 130 € / week

Our French language school in Montpellier offers this independent, budget accommodation for residential French language immersion stays in France.
Find out more
Price from 150 € / week
Social activities and excursions
We want to make your French language stay in Montpellier an unforgettable experience. We therefore offer every week a numerous wonderful cultural and fun activities as well as fantastic excursions.