Juniors and Teenagers have access to French private training all year round at our French language school in Montpellier. These French private lessons for teenagers are very flexible making them the ideal solution to learn French in France effectively and at your own pace. Studying French in France by way of residential French courses for teens at our French language immersion school in France is a wonderful way for you to soak up French culture and the French 'art de vivre'.
Course start Every Monday
Number of students 1
Number of lessons 20, 25, 30 or 40
Minutes per lesson 45
Duration As of 1 week
Levels All levels
Level test Yes, online
Timetable Depends on number of lessons
Ages 16 +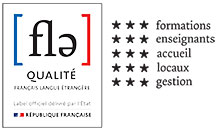 Quality Label FLE
We guarantee high quality teaching and services that are officially recognized by the quality label "Français Langue étrangère".
Course description
French private training for teenagers can be adjusted according to the number of classes you wish to have: 20, 25, 30 or 40 French classes a week. Your needs will be defined beforehand and they will be taken into account by your teacher so that you can benefit from French classes tailored to really suit you as an individual.
Our French language school in Montpellier focuses on communication based on the 4 skills recommended by the CEFRL (Common European Framework of reference for languages). In this way, activities available will improve reading, writing and listening skills whilst also improving lexical, phonetic and language skills.
This French private training for teens in Montpellier is organised to suit your needs and requests by offering you varied teaching material (video, audio, internet resources, tablets, newspapers, books, manuals etc.) to be sure to reach your objectives during our French immersion programs in France.
Your teacher will be aware of your strengths and weaknesses and for optimal implication during the lesson, they will thus be able to suggest activities that are adapted to what you like and what you find difficult.
Taking part in a residential French course in Montpellier in the South of France is the chance for you to get to know France better and find out about the social context of the country. During this French language immersion for juniors, teachers carefully choose authentic documents that are rooted in modern-day life to arouse your curiosity and motivate you as much as possible. This material is abundant and can be renewed upon request; it plays an important role in improving your representations.
Our French school in Montpellier is made even more attractive due to being located right in the heart of the city so that you can take part in out of school activities in a real-life context.
You will also be able to take part in the cultural and social activity program of our French Language School during your language immersion stay and practise your French with students who come from all over the world.
Who this French class is for
French Private training for juniors is suited to all from beginners (level A1) to advanced learners (level C2), who wish to have individual guidance so as to reach their specific French learning objectives faster.
Private lessons in our French school in Montpellier guarantee you learn French quickly whatever your ambitions or needs: preparing for an exam like the DELF/DALF, learning specific vocabulary for studying medicine or bakery in France or simply gain in fluency thanks to practice and guidance from a teacher who can correct both grammar and your pronunciation.
A French lesson lasts 45 minutes but in general, several lessons can be grouped together to guarantee you make optimal progress in French. Learning on a one to one basis during French Language holidays for teenagers is reassuring because you are guaranteed that the teacher will take your interests into account and you will be able to speak to your heart's content. Your French language stay will be even more beneficial because you will be able to put all French you learn into practice straight away.
The Benefits of this course
French private training for teenagers suits you if you feel more comfortable with personal guidance allowing you to go at your own pace through French private lessons. This residential French course for juniors is constructive and helps you to:
revise all the many grammar rules that are used in French
gain in fluency when interacting with others
learn new words and expressions during your French language immersion
reproduce the right intonation and pronunciation
recognise and understand cultural differences that are specific to France
learn what you specifically request to know with personal guidance
go at your own pace for fast and effective progress
ILA advantages !
• Only Montpellier school accredited by IALC and EAQUALS
• First class French classes, small groups, top motivated teachers
• Excellent nationality mix: Students from 80 countries
• Wonderful premises in Montpellier's historic center
• Enjoy exciting activities, make friends from all over the world
Accommodation in Montpellier with ILA
ILA offers you high quality accommodations for French language immersion programs in Montpellier, South of France! Please choose your accommodation!

Our French language school in Montpellier provides you with excellent, carefully selected host families for your French language course in France!
Find out more
Price from 130 € / week

Meet many people from around the world during French language immersion stays in France. Learn French and enjoy our comfortable student residences!
Find out more
Price from 154 € / week

Our French language school in Montpellier offers this quality accommodation for your residential French language course in Montpellier. Enjoy learning French!
Find out more
Price from 130 € / week

Our French language school in Montpellier offers this independent, budget accommodation for residential French language immersion stays in France.
Find out more
Price from 150 € / week
Social activities and excursions
We want to make your French language stay in Montpellier an unforgettable experience. We therefore offer every week a numerous wonderful cultural and fun activities as well as fantastic excursions.