Would you like to learn French in France and stay for quite a while? Then ILA, our French school in Montpellier invites you to enrol on our long-term intensive French course for teenagers; you will make progress fast thanks to our language immersion programs. Your general basic French will be improved as well as your knowledge of French culture. Moreover, your residential French course will be made optimal thanks to personal guidance throughout your French language classes.
Course start Every Monday
Number of students 5 - 8 (max. 10)
Number of lessons 30
Minutes per lesson 45
Duration 20 weeks +
Levels All levels
Level test Yes, online
Timetable 09:00 - 12:15*
and 3 afternoons 13:15 - 15:50
Ages 16 +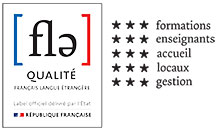 Quality Label FLE
We guarantee high quality teaching and services that are officially recognized by the quality label "Français Langue étrangère".
Course description
The first thing you need to do when studying French in France is to improve the 4 skills recommended by the CEFRL (the Common European framework of reference for languages), these skills will provide you with solid foundations for as you continue studying French. Our intensive French course undertakes to teach you how to speak, read, listen and write in French. By studying grammatical rules as well as lexical and phonetic skills you will learn how to use the language for communicating on a regular basis and you will also become familiar with French cultural heritage.
Our French immersion school in Montpellier will guide you through your learning process so that you improve fast thanks to lessons based on oral communication. This gives you the chance to learn practice the language in a fun way with debates, discussions, roleplay….In addition, you can also go on outings that give you the chance to practice your French outside of our French school in total language immersion; ideal for practicing the skills you have acquired, and learning to deal with everyday situations.
When preparing language programs, our French school in Montpellier tailors them to suit each level and type of residential French course. We prefer to use authentic source documents and varied teaching material (audio, video, newspaper, internet…) so that your learning process is not just reduced to reading simple manuals. We want your residential French course to be as successful as possible.
Regular and individual follow-up is ensured to make the intensive long-term French language courses for teenagers successful. Your main objective is taken into account and your progress monitored step by step so that you realise you are improving and stay motivated.
*In high season the timetable can change.
Who this French course is for
These intensive long-term French courses for Teens are open to all students from beginners (A1) to advanced learner (C2) who wish to come and learn French in Montpellier for at least 20 weeks.
These long-term intensive French courses for teenagers are particularly beneficial because they guarantee a rich learning process. You get to study both the language and the culture, and you are bound to succeed due to the length of the French course and use of various themes. You will get to study French in small groups that never go over 10 students. In this way, you will be able to practice your oral French comfortably and free from any stress. Moreover, we welcome learners with many different nationalities and different ages, so you will get the chance to meet up with different types of people and you will all be able to share your general knowledge and experiences together…always in French of course !
A long-term intensive language stay at our French school in Montpellier ensures that you will have quality French language teaching and your individual needs will always be taken into account so that you meet your objectives. This is a real opportunity for you to make step by step progress, working during your residential French language course for teenagers at your own pace. You will become aware of the progress you are making thanks to help form your teachers; this is so encouraging when you are learning French.
The benefits of this course
The long-term French intensive course for juniors is a good idea if you wish to master the French language and benefit from personal guidance to guarantee efficient progress. This intensive French language course helps you to:
Feel at ease in a great majority of everyday situations
Be aware of grammatical rules and how to use them
Discover and learn new words everyday
Be attentive to different French sounds
Crave for new information and dive into the culture that is all around you
Be aware of just how well you are improving thanks to personal guidance
Reach your objective effectively
ILA advantages !
• Only Montpellier school accredited by IALC and EAQUALS
• First class French classes, small groups, top motivated teachers
• Excellent nationality mix: Students from 80 countries
• Wonderful premises in Montpellier's historic center
• Enjoy exciting activities, make friends from all over the world
Accommodation in Montpellier with ILA
ILA offers you high quality accommodations for French language immersion programs in Montpellier, South of France! Please choose your accommodation!

Our French language school in Montpellier provides you with excellent, carefully selected host families for your French language course in France!
Find out more
Price from 130 € / week

Meet many people from around the world during French language immersion stays in France. Learn French and enjoy our comfortable student residences!
Find out more
Price from 154 € / week

Our French language school in Montpellier offers this quality accommodation for your residential French language course in Montpellier. Enjoy learning French!
Find out more
Price from 130 € / week

Our French language school in Montpellier offers this independent, budget accommodation for residential French language immersion stays in France.
Find out more
Price from 150 € / week
Our Testimonials
Find out what our students think of their language stay at ILA French language school in Montpellier
Social activities and excursions
We want to make your French language stay in Montpellier an unforgettable experience. We therefore offer every week a numerous wonderful cultural and fun activities as well as fantastic excursions.