Our French standard language course for adults uses a communicative method for learning general French. In addition to the standard course, mini group lessons (max. 5 students) for teacher training brushes up your didactic capacities and educational methodology for French as a foreign language. The residential French course also helps you to learn more about culture; something which is essential for optimal teaching.
Course start Every Monday
Number of students 5 - 8 (max. 10)
max. 5 for Teacher Training
Number of lessons 20 + 8
Minutes per lesson 45
Duration 1 - 4 weeks
Levels As of B1
Level test Yes, online
Timetable 09:00 - 12:15*
and 3 afternoons 13:15 - 15:20
Ages 18 +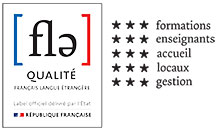 Quality Label FLE
We guarantee high quality teaching and services that are officially recognized by the quality label "Français Langue étrangère".
Course description
The French standard course focuses on the four fundamental skills recommended by the CEFRL (Common European Framework of reference): spoken and written French as well as listening and reading comprehension. Learning is based on communication and exploring the grammatical, lexical and phonetic subtleties of the language. Learning French in Montpellier as part of a French immersion program gives you the opportunity to soak up the French "art de vivre" and get familiar with cultural heritage and gastronomy.
In our French school in Montpellier, the aims of the programs are determined so that you can improve effectively according to the skills of each level. Teachers use both authentic documents and multimedia resources so as to vary their approach and encourage students to become more creative and particularly capable of communicating in French at all times.
Whereas the French standard classes improve French language skills, small group classes (max. 5 students) for Teacher training are essential for giving you the time to think about your own work as a French Teacher. The classes show you more ways of teaching and encourage innovative strategies both for thinking up your lesson, teaching it and managing the group. This residential course changes Teachers' daily routines and gives them the chance to sink into a French way of life; something they will be able to share with their students when returning to their classroom.
This is an ideal formula for improving as a French Teacher because you will be able to pass on your enthusiasm and motivation to your students when returning to the classroom after the course.
*In high season the timetable can change
Who this course is for
The standard French course for adults together combined with our mini group classes for Teacher training is ideal for French Teachers who have a level of at least B1 and who aim to study the difficulties of the language in more detail so as to add to their teaching methods.
This residential course formula guarantees that the Teacher will brush up both linguistic and pedagogical skills as well as learn more about French civilisation and culture. To encourage constructive dialogue, there are never more than 10 students in any one group which makes speaking easier. Mini group for Teacher training is done on a one to one basis giving you the opportunity to get all the answers to your very personal and even professional questions. Moreover, our French school is located in the very heart of Montpellier which means you will constantly be plunged into a Mediterranean atmosphere so that you can soak up French culture.
The Standard French course not only helps you to acquire special skills but also gives you the chance to see things from a student's perspective. As you watch the way we set up and use our activities during classes, you will automatically think about the way in which you yourself manage your classes. You will be able to learn in real life situations. Small group classes for Teacher training have a meta cognitive dimension which encourages you to think about your own work as a Teacher.
The benefits of this French course
Teacher training (Standard course for adults and private classes) is based on a communicative approach where Teachers help students to the best of their abilities in everyday situations. Our French course will help you to:
Improve your communication skills in various situations
Anticipate and control everyday situations
Assimilate detailed knowledge of grammar rules
Widen your range of vocabulary
Improve phonetics and prosody
Find answers to questions regarding pedagogy or didactics
Lead you to think about your own work as a Teacher
Put yourself into the shoes of a student to better understand them
Improve your knowledge of the French culture and civilisation.
ILA advantages !
• Only Montpellier school accredited by IALC and EAQUALS
• First class French classes, small groups, top motivated teachers
• Excellent nationality mix: Students from 80 countries
• Wonderful premises in Montpellier's historic center
• Enjoy exciting activities, make friends from all over the world
Accommodation in Montpellier with ILA
ILA offers you high quality accommodations for French language immersion programs in Montpellier, South of France! Please choose your accommodation!

Our French language school in Montpellier provides you with excellent, carefully selected host families for your French language course in France!
Find out more
Price from 130 € / week

Meet many people from around the world during French language immersion stays in France. Learn French and enjoy our comfortable student residences!
Find out more
Price from 154 € / week

Our French language school in Montpellier offers this quality accommodation for your residential French language course in Montpellier. Enjoy learning French!
Find out more
Price from 130 € / week

Our French language school in Montpellier offers this independent, budget accommodation for residential French language immersion stays in France.
Find out more
Price from 150 € / week
Our Testimonials
Find out what our students think of their language stay at ILA French language school in Montpellier
Social activities and excursions
We want to make your French language stay in Montpellier an unforgettable experience. We therefore offer every week a numerous wonderful cultural and fun activities as well as fantastic excursions.