Our Intensive summer French course plus for adults combines French group lessons where emphasis is placed on communication with French private training for custom guidance. Our French immersion school in Montpellier ensures an enhanced French learning program which is even more effective thanks to the language immersion program. You will really be made to feel like you are on holiday after classes because of the lovely Southern France atmosphere and nearby beaches.
Course start First Monday June to last Monday September
Number of students 5 - 8 (max. 10)
1 for private course
Number of lessons 30 + 5
Minutes per lesson 45
Duration As of 1 week
Levels All levels
Level test Yes, online
Timetable 09:00 - 12:15*
and 3 afternoons 13:15 - 15:50
plus 5 private lessons
Ages 16 +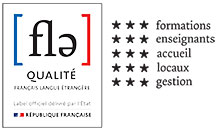 Quality Label FLE
We guarantee high quality teaching and services that are officially recognized by the quality label "Français Langue étrangère".
Course description
The intensive summer French course plus for adults is an approach that encompasses the 4 skills recommended by the CEFRL (common European framework of reference for languages). Activities are meant to make you more autonomous when reading, listening and speaking; and you will also acquire grammar, lexical and phonetic skills. You will of course also learn all about the particularities of French culture and civilisation. In each French class, emphasis is placed first and foremost on oral communication especially during the intensive residential French course so that students feel comfortable when communicating in various everyday situations. They also end up better understanding French customs and behaviour. Private French lessons are also available for helping with more specific needs of students and ensures optimal progression.
Programs are carefully tailored to suit each level and type of class at our French language school in Montpellier. French private training strengthens language skills that you have already acquired and helps develop more specific skills according to individual requirements. The teacher develops French learning strategies so as to help each student reach their objectives quickly and effectively during their language immersion stays at our French language school in Montpellier.
This French summer course in France offers varied contexts with multiple teaching resources (video, internet, audio, newspapers, books, textbooks…) with a clear preference for authentic source documents. We make a point of opening up our French language school in Montpellier to everything going on outside so that students can soak up the French 'art de vivre' and take in the easy-paced Mediterranean way of life.
For this, cultural activities are organised outside French classes and allow students to really make the most of French language immersion stay in France. If you study French in France and more particularly in Montpellier, we guarantee you will make progress fast whilst still feeling like you are on holiday.
*In high season the timetable can change
Who this summer course is for
This French language immersion course is based on a complete and structured learning process tailored to suit learners who do not have a lot of time on their hands during their holiday for studying French in France. The intensive summer French course plus for adults gives you the chance to put the French learned into practice, improve and consolidate language skills as well as learn about French culture and civilisation.
Our French summer courses for adults have a maximum of 10 students per class, so that with various activities available interaction with other students from all over the world is encouraged. Students get to know each other well and can work together to improve their French language skills. Private French training is the chance to work on any weak points that may have been pinpointed during group French lessons. It is also beneficial for tackling specific themes as well as specialised vocabulary for personal or professional objectives.
When you learn French in Montpellier, you are not confined to learning French within our French language school. You also have the chance not to think all the time about our French language immersion school but to enjoy the summer sun every time you have a bit of free time.
The benefits of this summer course
These summer Intensive French courses for adults are language stays designed for students who do not have much time on their hands for studying French. With this course you learn French fast and effectively. This residential French language course helps you to:
Gain in fluency when speaking
Use your language skills in everyday life situations
Solve any problems you may have with regards grammar so that you make less mistakes
Consolidate basic structures and vocabulary for better communication
Practice and improve your pronunciation during your French language stay
Benefit from private training so as to meet all your personal requirements
Make the most of everyday to soak up the Southern French way of life
ILA advantages !
• Only Montpellier school accredited by IALC and EAQUALS
• First class French classes, small groups, top motivated teachers
• Excellent nationality mix: Students from 80 countries
• Wonderful premises in Montpellier's historic center
• Enjoy exciting activities, make friends from all over the world
Accommodation in Montpellier with ILA
ILA offers you high quality accommodations for French language immersion programs in Montpellier, South of France! Please choose your accommodation!

Our French language school in Montpellier provides you with excellent, carefully selected host families for your French language course in France!
Find out more
Price from 130 € / week

Meet many people from around the world during French language immersion stays in France. Learn French and enjoy our comfortable student residences!
Find out more
Price from 154 € / week

Our French language school in Montpellier offers this quality accommodation for your residential French language course in Montpellier. Enjoy learning French!
Find out more
Price from 130 € / week

Our French language school in Montpellier offers this independent, budget accommodation for residential French language immersion stays in France.
Find out more
Price from 150 € / week
Social activities and excursions
We want to make your French language stay in Montpellier an unforgettable experience. We therefore offer every week a numerous wonderful cultural and fun activities as well as fantastic excursions.