Our Standard + Business French course for adults develops the communication of various grammatical and lexical aspects of the language serve. In addition, it specializes in Business French allowing you to develop professional communication skills specific to the world of business. In our French language school in Montpellier, thanks to various oral communication exercises, this association of French classes ensures a rapid immersion program and therefore a real practice of the French language helping you to learn French fast.
Course start Every Monday
Number of students 5 - 8 (max. 10)
Number of lessons 20 + 10
Minutes per lesson 45
Duration As of 1 week
Levels As of B1
Level test Yes, online
Timetable 09:00 - 12:15
and 3 afternoons 13:15 - 15:50
Ages 16 +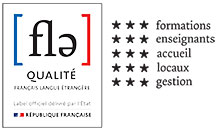 Quality Label FLE
We guarantee high quality teaching and services that are officially recognized by the quality label "Français Langue étrangère".
Course description
The Standard + Business French language course for adults is based on the 4 competences recommended by the CEFRL (Common European Framework of reference for languages): writing, reading, listening and speaking. These residential French courses focus on deepening the grammatical structures of the French language as well as enriching your vocabulary. The privileged position given to communication also makes it possible to work a lot on your pronunciation during your French language immersion in France.
Our French school in Montpellier rigorously develops its programs so that they meet the objectives of each level according to the type of course and the needs of the learners. The aim is to facilitate everyday integration so that learning French in Montpellier during your residential French course combines usefulness with pleasure.
In our French language courses, priority is given to speaking French. During the Business French course it will be more specifically orientated to master French in various work / company communication situations, in order to facilitate the use of French in business. It is important to know the French culture but also the company's culture, which can vary from one country to another. The development of intercultural knowledge thanks to the contact established with students coming for our French immersion courses to our school from all over the world facilitates this understanding.
Debates, presentations, practical cases, and role-plays, are all activities undertaken to gain self-confidence in various communicative situations. The Business French language course also focuses on business-specific goals such as writing reports, facilitating meetings or writing reports, orders, leading telephone conversations, and more. To gain energy during the course, the teacher favours the use of Internet resources. Studying French in France in language immersion also means the convenience of daily access to authentic documents.
Who for is this French course?
This Standard French language Course for Adults, associated to the French Business course, is the most appropriate form for specific learning for professional purposes. It makes it possible to prepare yourself to be working or starting an internship in France, or to meet needs in front of a francophone clientele.
The French Standard language Course ensures to contribute to your language knowledge for everyday communication and the French Business course will bring you skills for communication in the work world. Accessible from level B1 onwards, the professional context is approached in various ways with work supports appropriate to each ones skill.
During these residential French courses, the international class offer a relaxed atmosphere that is favoured by the size of the groups that don't exceed 10 students. Speaking and establishing dialogue is easier and very enriching, thanks to the intercultural sharing on different ways to do things in professional context in each country. The French Business language course is also the opportunity to exchange through the professional experiences of each other on common concerns.
The benefits of this French course
The Standard + Business French course for adults is the ideal French course for a successful language stay for professionals or students interested in the business world. It ensures rapid progression and an intensive training to the practice of oral expression. This French course helps to:
speak fluently in a professional or personal context
master French in the majority of everyday or professional communication situations
consolidate grammatical skills to better write and speak
learn and use a specific lexicon in a variety of contexts
study the pronunciation and importance of intonation to communicate well
extend knowledge on language and culture related to business world.
ILA advantages !
• Only Montpellier school accredited by IALC and EAQUALS
• First class French classes, small groups, top motivated teachers
• Excellent nationality mix: Students from 80 countries
• Wonderful premises in Montpellier's historic center
• Enjoy exciting activities, make friends from all over the world
Accommodation in Montpellier with ILA
ILA offers you high quality accommodations for French language immersion programs in Montpellier, South of France! Please choose your accommodation!

Our French language school in Montpellier provides you with excellent, carefully selected host families for your French language course in France!
Find out more
Price from 130 € / week

Meet many people from around the world during French language immersion stays in France. Learn French and enjoy our comfortable student residences!
Find out more
Price from 154 € / week

Our French language school in Montpellier offers this quality accommodation for your residential French language course in Montpellier. Enjoy learning French!
Find out more
Price from 130 € / week

Our French language school in Montpellier offers this independent, budget accommodation for residential French language immersion stays in France.
Find out more
Price from 150 € / week
Social activities and excursions
We want to make your French language stay in Montpellier an unforgettable experience. We therefore offer every week a numerous wonderful cultural and fun activities as well as fantastic excursions.