Learning French in France is good for improving your French quickly. Therefore ILA, our French language school in Montpellier, organises CSN French courses for Swedish students with grants (CSN: Centrala Studiestödsnämnden). The aim of this course is to study the French language and its fundamentals, for oral as well as written communication in a pleasant atmosphere.
Course start Every Monday
Number of students 5 - 8 (max. 10)
Number of lessons 30
Minutes per lesson 45
Duration As of 3 weeks
Levels All levels
Level test Yes, online
Timetable 09:00 - 12:15*
and 3 afternoons 13:00 - 15:50
Ages 16+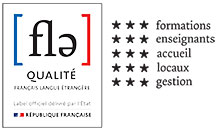 Quality Label FLE
We guarantee high quality teaching and services that are officially recognized by the quality label "Français Langue étrangère".
Course description
The CSN intensive French course for adults aims at developing the four skills recommended by the CECRL (CEFRL – Common European Framework of reference for languages): Speaking, listening, reading and writing, skills which help you to improve your basic French, fundamentals for being able to communicate in everyday situations. In addition, this French course concentrates on learning grammar, vocabulary, phonetics (pronunciation) whilst also taking a look at French culture.
Our Intensive French course in France places a great deal of emphasis on communication through class activities. Many different teaching activities are used such as role play, debates, presentations…. aiming to help you put what you have learnt into practice. Such activities allow you to make progress in an atmosphere that encourages conversation and discussion.
All our French language programs in France are tailored to suit the numerous courses as well as the different levels of the students taking part. We use varied teaching material: audio, video, internet, manuals, newspapers…. which makes the lesson dynamic and lively.
Learning French in Montpellier is also the chance to take part in different activities and go off on outings after class with the aim to soak up all the riches of the French culture and really make your language stay worthwhile.
Who this course is for
These CSN French courses for adults are aimed at Swedish students who have grants from beginners (level 1) to advanced learners (level C2).
Your language learning is made optimal because the intensive course is never less than 3 weeks long. A certificate is available at the end of the course to certify the program that has been followed by each student and the progress made. Our French school in Montpellier offers special reduced prices for CSN students so feel free to contact us for any further details.
These classes are proven to be beneficial for those who wish to study French in France and all aspects of the French language in total immersion programs. You get to learn and understand the language whilst also deepening knowledge you may already have. In addition, we insist on mixed-nationality classes (our students come from all over the world) and we put emphasis on communication at all times, which means that you can learn the French language in a very lively way, in a friendly atmosphere that encourages inter cultural exchanges and conversation.
Moreover, the reduced number of students in any one group (a maximum of 10 students per class), means that particular attention can be paid to each student so as to help them make progress quickly; individual needs are taken into account. In fact, it is always more reassuring when you speak in a small group rather than a big one.
So, studying French at our French language school in Montpellier is a good idea for all Swedish CSN students who wish to combine language-learning with practical exercises. We offer you structured classes that are fun and you get the chance to discover all the mysteries of French culture.
Thus, learning French at our French language school in Montpellier is ideal for all students who wish to put into practice what they learn via structured learning and fun activities. It is an excellent way of getting familiar with French culture in a very authentic way.
The benefits of this French course
CSN intensive French courses for adults are very interesting because you get familiar with all aspects of the language, both oral and written or even cultural. The course allows you to:
Profit from special CSN prices
Gain in confidence for more fluency when speaking
Prepare for everyday communication in a real context.
Consolidate your grammar during French language stays in Montpellier
Increase your range of French vocabulary
Manage to identify the different sounds in the French language
See behind the scenes of French culture.
ILA advantages !
• Only Montpellier school accredited by IALC and EAQUALS
• First class French classes, small groups, top motivated teachers
• Excellent nationality mix: Students from 80 countries
• Wonderful premises in Montpellier's historic center
• Enjoy exciting activities, make friends from all over the world

Accommodation in Montpellier with ILA
ILA offers you high quality accommodations for French language immersion programs in Montpellier, South of France! Please choose your accommodation!

Our French language school in Montpellier provides you with excellent, carefully selected host families for your French language course in France!
Find out more
Price from 130 € / week

Meet many people from around the world during French language immersion stays in France. Learn French and enjoy our comfortable student residences!
Find out more
Price from 154 € / week

Our French language school in Montpellier offers this quality accommodation for your residential French language course in Montpellier. Enjoy learning French!
Find out more
Price from 130 € / week

Our French language school in Montpellier offers this independent, budget accommodation for residential French language immersion stays in France.
Find out more
Price from 150 € / week
Social activities and excursions
We want to make your French language stay in Montpellier an unforgettable experience. We therefore offer every week a numerous wonderful cultural and fun activities as well as fantastic excursions.